Jeremy Corbyn leads parliamentary tributes to Arsene Wenger
By Press Association
Last Updated: 16/05/18 9:55am
Jeremy Corbyn has led tributes in Parliament to Arsene Wenger as an MP backed calls for the former Arsenal manager to be given an honorary knighthood.
Tory MP Huw Merriman, who led the debate, compared Wenger to former chancellor George Osborne and branded him "the best example of successful immigration in this country".
The Labour leader, speaking at the despatch box during the adjournment debate, said: "As the MP who's proud to represent the Arsenal stadium, both the old one and the new one, I've been through the pain and the pleasure of the building of the new stadium.
"But also, the whole time that Wenger has been manager, the enormous contribution he's ensured Arsenal have made to the local community with Arsenal in the community being very successful, local grounds and clubs all over the borough.
"And I've never forgotten taking a very large group of primary school children to Arsenal stadium one evening, and Wenger giving them a very interesting talk about how he learned English, how they should all learn foreign languages in order to create a more generous and more peaceful world.
"He has a wonderful ability to communicate with people of all ages and all footballing abilities.
"I think the future of football has to be the community basis of football, and much greater fan participation in the running of our clubs."
Speaking about the club's fans, Bexhill and Battle MP Mr Merriman said: "There are 100 million of us across the globe.
"Some have great notoriety. The Trump family. Osama bin Laden. And, it gets even worse for the Arsenal PR team, Piers Morgan."
Speaker John Bercow, another Arsenal fan, then intervened, saying: "I think what he was driving at was there is a tendency sometimes for people on social media to volunteer their opinions with an insistence in inverse proportion to their knowledge of the subject matter under discussion? Do I understand him correctly?"
Mr Merriman replied: "Mr Speaker, you're absolutely spot on. I can only think of the words 'Piers' and 'Morgan' when you conjure up those particular sentences.
"But I am delighted that Piers Morgan is now a convert, because I understand today, I was contacted by Good Morning Britain, he's calling for an honorary knighthood for Arsene Wenger, and I think that means for the very first time that I find myself in agreement with Piers Morgan."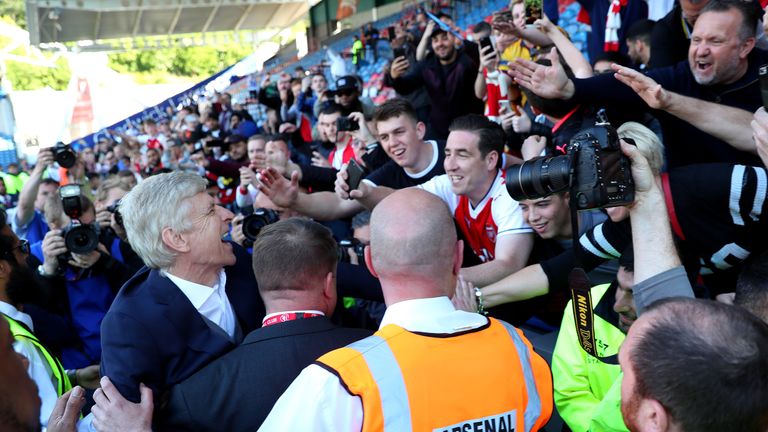 Mr Merriman also praised the club's community spirit as he said: "It should be no surprise that we've had a manager that's come in from abroad, who we've embraced as one of our own and has taught us.
"I would say he's the best example of successful immigration in this country, I would like to hope that it's thanks to him that immigration is widely proclaimed as doing fantastic things for this country."
Mr Merriman and Bercow were both wearing the club's tie for the debate.
Sports Minster Tracey Crouch, who is a Tottenham Hotspur supporter, has also tipped Wenger for a move into politics given his experience of "orderly exits from Europe".