Alisher Usmanov agrees to sell Arsenal shares to Stan Kroenke
By Zinny Boswell
Last Updated: 07/08/18 7:54pm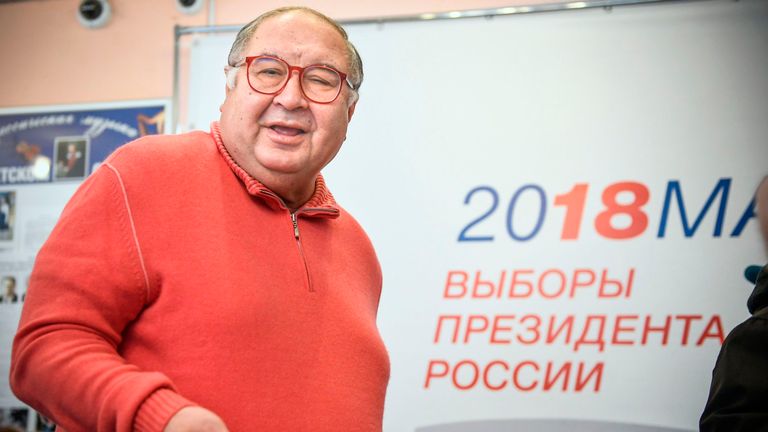 Alisher Usmanov says he has "decided to sell" his stake in Arsenal to majority owner Stan Kroenke in a deal which values his shares at £550m.
Kroenke made a cash bid worth more than £550m to buy Usmanov's 30 per cent stake of the club to take full ownership, receiving an "irrevocable undertaking" from the Russian's security firm to accept the offer as soon as possible, with a deadline of 3pm on Tuesday set.
Arsenal fans slam 'dreadful' Kroenke bid
It is understood Uzbekistan-born Usmanov's decision to sell his stake in Arsenal is unrelated to current political tensions between the UK and Russia.
Sources close to Usmanov, who has previously tried to buy Arsenal from Kroenke, have told Sky Sports News that he has decided to pursue other opportunities because of the US mogul's refusal to sell the club.
However, Sky Sports News understands it is highly unlikely Usmanov will look at other Premier League clubs.
In a statement, Usmanov said: "I have decided to sell my shares in Arsenal Football Club which could be the best football club in the world.
"I wish all the best and great success to this wonderful football club and to all those whose lives and careers are entwined in it."
Usmanov's Red and White Securities firm added: "We confirm that Mr Alisher Usmanov has given an irrevocable undertaking to KSE to accept the offer in respect of Red and White Securities' entire holding of
18,695 Arsenal shares (representing approximately 30.05 per cent) for an agreed price of £29,419.64 per share in cash valuing Red and White Securities' stake at just over £550m."
The Financial Times reported in July that Usmanov was exploring the sale of his stake in Arsenal to Kroenke after failing in his attempts to take full ownership of the club.
Arsenal Supporters' Trust has hit out at Kroenke's bid to buy the club outright, saying it "marks a dreadful day" for the Gunners.