Rob Holding hopes Arsenal form earns England call-up
Watch Bournemouth vs Arsenal live on Renault Super Sunday from 12.30pm on Sky Sports Premier League
Last Updated: 23/11/18 8:24am
Rob Holding hopes to break into the England squad on the back of the most consistent form of his Arsenal career.
The 23-year-old has been a mainstay under new Gunners boss Unai Emery, making 12 appearances so far this season.
"I think this is my best run in an Arsenal shirt," Holding told Sky Sports. "Consistency-wise, it's been 12 games consistently playing to a good level, not playing because someone is injured but on merit. That gives you more confidence.
"Gareth Southgate has brought a refreshed feeling to England with a lot of young lads. If you're playing well in the Premier League week in, week out, as we saw with Callum Wilson and Lewis Dunk, you're going to get chances.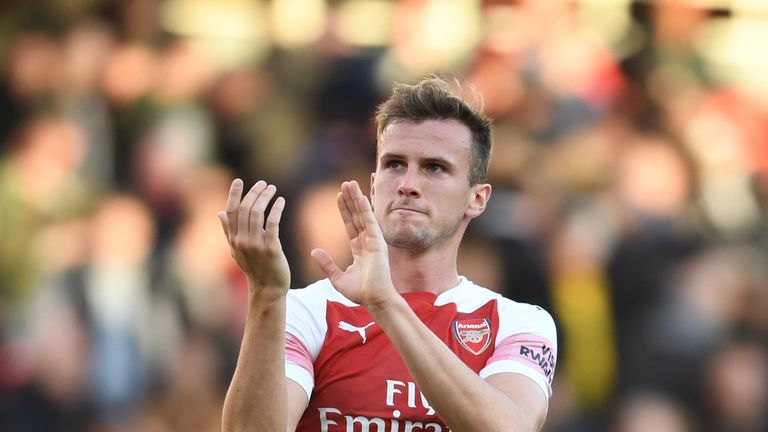 "You want to be a part of what they are creating at the moment. Obviously what they did at the World Cup and there is the Euros in over a year's time. It's a great time to be involved with England so why wouldn't you want to be."
Holding's stretch in the Gunners first team has coincided with their 16-game unbeaten run in all competitions.
Arsenal are currently three points off fourth in the Premier League, and Holding believes a top-four finish and silverware would constitute a successful season.
"We've had a great start, we want to conquer that top four and get ourselves back in there as soon as we can," he added. "That's the main aim.
"In the cup competitions we want to maintain our place in the Europa League and we're on a good run in the Carabao Cup and have a good game against Spurs coming up.
"We'll see if we can finish with some trophies. Top four with some trophies would be a very successful season."
In and out of the team under former boss Arsene Wenger, Holding has enjoyed a renaissance under his successor, Emery.
Asked what the differences are between the two managers, Holding said: "Wenger was very good for me as a manager and what he did for me. He encouraged me to play out from the back, showed me how to and gave me confidence.
"The main difference is how we're defending when we're attacking. When we're up the other end of the pitch, how we are organised and prepared for a counter. That has been the biggest difference.
"We're really focusing on video work, moving as little as five yards in some positions which makes all the difference when getting to the ball.
"When we were playing we would be stood there and no one would be talking to each other, whereas now there is much more communication.
"We seem a bit more organised and a bit more together at the back."
Watch Bournemouth vs Arsenal live on Renault Super Sunday from 12.30pm on Sky Sports Premier League