Arsenal's Europe League match with Vorskla Poltava in doubt after match was moved to Kiev
By Sky Sports News
Last Updated: 28/11/18 10:33pm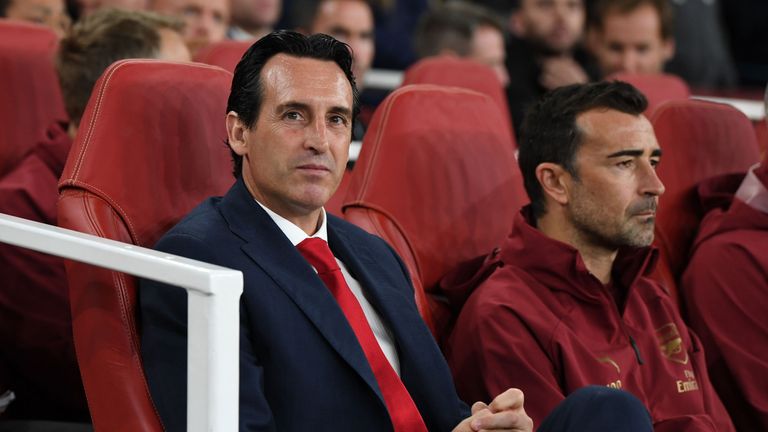 Arsenal's Europa League match against Vorskla Poltava on Thursday is in doubt after the Ukrainian side said they could not guarantee they would be able to fulfil the fixture.
UEFA took the decision to move the game to the Olympic Stadium in Kiev, following the introduction of martial law in some parts of Ukraine due to escalating tensions with Russia amid a row over Ukrainian ships in Crimea.
Ukraine parliament voted to introduce 30 days of martial law across 10 of its regions, in effect from Wednesday, but Poltava was not one of them with the fixture now set to be held about 200 miles away from its originally scheduled venue.
Poltava - in north-eastern Ukraine - is around 400 miles from Crimea and just over 100 miles from the Russian border. The state does not have a border with Russia.
Around 500 Arsenal fans are expected to make the trip and some have already been affected by the late change of venue, with the club's supporters critical of UEFA's decision.
UEFA say they are working closely with the Football Federation of Ukraine in order to ensure the game goes ahead in Kiev on Thursday.
A statement released on Wednesday said: "The urgent decision of UEFA to relocate the match to Kiev was based on the sudden introduction of Martial Law and the uncertainty of the security situation in some parts of Ukraine and particularly given the extremely short timescale available to evaluate all existing risks.
"UEFA is now working closely with the Football Federation of Ukraine to ensure that the match goes ahead in the Olympiskiy stadium in Kiev tomorrow. The decision concerns the match FC Vorskla and Arsenal FC.
"UEFA is also continuing its close collaboration with the FFU to examine all implications for holding matches in some parts of Ukraine in the immediate future. UEFA will be sending senior security experts to Ukraine to further assess the situation and the potential impact on security for upcoming UEFA matches.
"UEFA regrets the inconvenience the relocation of this match has caused to supporters and FC Vorskla."
Arsenal have already secured qualification through to the last 32 of the competition.