Unai Emery respects UEFA decision to switch Vorskla Poltava vs Arsenal to Kiev
By Sky Sports News
Last Updated: 29/11/18 8:04am
Unai Emery says Arsenal will respect UEFA's decision to move their Europa League tie against Vorskla Poltava to Kiev.
The venue for the Group E clash was switched to Kiev's Olympic Stadium from the Stadion Vorskla in Poltava - around 185 miles east of the Ukrainian capital - after martial law was declared in 10 regions of the country.
Poltava avoided Martial law but UEFA apologised to both sets of fans for switching Thursday's tie on Tuesday, and said it will send senior security experts to assess the situation in Ukraine.
Vorskla have confirmed the game will go ahead and with their own supporters inside the Olympic Stadium in Kiev, following an official Instagram post that showed the squad boarding a coach for the country's capital.
Around 500 Arsenal supporters were due in Ukraine and some had already travelled to Poltava ahead of the match, leaving them with a long journey still to make to the west.
Arsenal's players also had travel issues, with the plane carrying them to Kiev suffering technical difficulties, which meant their pre-match press conference was delayed by 90 minutes.
Once Emery was finally able to answer questions, he was respectful of the process UEFA had undertaken to ensure the safety of everyone involved, after tensions between Ukraine and Russia intensified with military conflict off the coast of Crimea.
"First, we need to respect UEFA's decision because I think it's not easy for Vorskla," said Emery, who has taken a youthful-looking squad to Ukraine with the Gunners already through to the knockout stages of the Europa League.
"For us yesterday [Tuesday] we were preparing the first trip to Poltava and waiting in the evening for the last decision.
"It's not changing a lot to play here. It is clear they are playing in Ukraine, not in their town, but here in Kiev they can also move their supporters.
"In 90 minutes we want to do our work here. The decision is not easy but with big responsibility. UEFA yesterday found the best decision to play and also with protecting everybody, us and them.
"We were waiting for this decision but with respect. The travel changed but Kiev also has lot of possibility for us and most important for supporters - we just want to play and win and show every supporter from London to do well."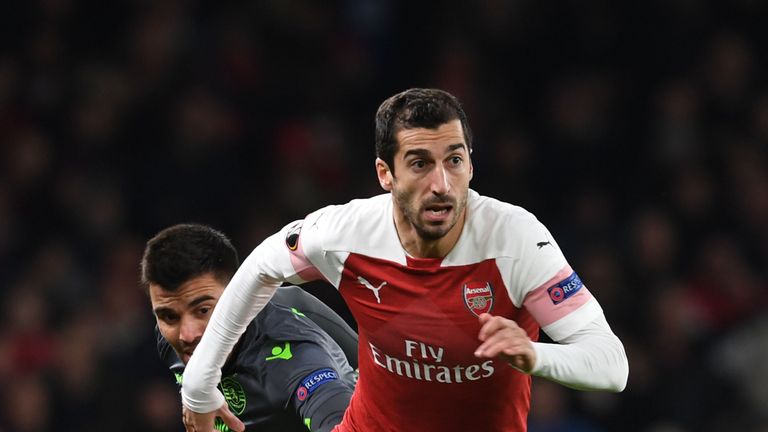 Henrikh Mkhitaryan, who previously played in Ukraine with Shakhtar Donetsk, believes it will be Vorskla who are hit more by the move to the capital.
"We were ready to play in Poltava, we are ready to play in Kiev," he said. "It was a long trip but it does not matter where we play. Of course for Poltava, it's a big disadvantage because they wanted to play at home."