Arsenal have become a stronger side since Unai Emery's arrival, according to defender Sead Kolasinac.
The Gunners are currently on a 20-match unbeaten run - their longest in 11 years - and are within touching distance of the top four having played all of their top-six rivals.
One of those games was Sunday's enthralling 4-2 win over Tottenham at the Emirates, where Sky Sports pundit Graeme Souness praised the Gunners for their new-found passion and fight - including a touchline bust-up between Eric Dier and a number of Arsenal substitutes.
Kolasinac hailed the influence of Emery at the Emirates, having taken over from Arsene Wenger in the summer, telling Sky Sports: "When you don't lose a game for that long, the belief is there for everyone.
"Last season we didn't have a run like this, but when you're 20 unbeaten you have lots of confidence and belief and sometimes things take care of themselves. We're stronger in what we're doing this year probably.
"The manager always prepares us very well for games. We watch a lot of video, and speaking as a full-back he and his staff will show us what we're doing well and what we need to improve, and that helps a lot when you're shown things.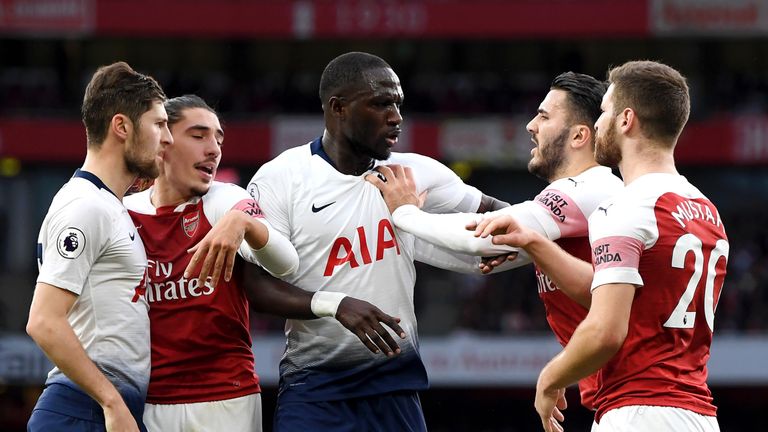 "It might be that you weren't standing right in one game, make sure you stand in a better position in the next one. That means you learn from game to game and become better, and it's a key to success."
Kolasinac has found himself back in the Arsenal side after missing the opening month of the season, and said the knee injury which stopped him from impressing Emery in the Premier League after a bright pre-season had been difficult to take.
But he is now reaping the rewards of hard work during his time on the physio table - and says his team-mates are also on the up thanks to the Spaniard's methods.
He said: "It's not nice when you take part in a full pre-season, do all the running, and then a week before it kicks off you get injured.
"But that happens, you get those sorts of blows, and the first two games we had envisaged those going better, but to come back in the way we have is amazing.
"Game to game we're getting stronger, better on the ball, I feel that we are developing personally, tactically and technically too.
"We're taking strides forward and I hope we can keep this unbeaten run going on for as long as possible."