Mikel Arteta said he dropped captain Pierre-Emerick Aubameyang for Arsenal's north London derby victory over 10-man Tottenham to sustain the club's long-term "foundation".
The Gunners skipper was dropped to the bench - news that was confirmed to Sky Sports by Arteta ahead of Sunday's Premier League game - for a breach of the club's pre-match protocol as he watched his team-mates come from behind to win 2-1 at the Emirates Stadium.
Mikel Arteta to Sky Sports ahead of the north London derby...
"We have drawn the line, we move on, and he is on the bench.

"We have a process for every game that we have to respect. It was a decision made after evaluating everything and who Auba is and what he's done.

"We have other players who can play. Recently we have changed the team quite a lot and there are players who are willing to play and deserve a chance, so I'm comfortable with that."
Arteta refused to reveal the reasons behind his captain's omission but did confirm he was originally scheduled to start in attack, with Alexandre Lacazette getting the nod instead.
Arteta says he's dropped Aubameyang for disciplinary reasons. Wouldn't elaborate.

— Patrick Davison (@skysports_PatD) March 14, 2021
Lacazette went on to score the winner through a second-half penalty after Martin Odegaard had earlier cancelled out a sublime Rabona finish from Spurs substitute Erik Lamela - who was later sent off for picking up two quick bookings as the visitors chased the game.
It proved to be a big win for Arsenal and manager Arteta, especially after his decision to leave out Aubameyang.
Asked why it was important for him to set such standards by dropping his captain for a crunch game, Arteta replied: "Because for me they are the foundation and the platform that we can build something medium and long-term that is sustainable and that can bring us joy and happiness.
"Without that, I don't believe that it would happen. That's why I keep talking about it and acting about it. I made what I thought was the right decision and we draw a line there and now let's move on again.
"We know how important Auba is for us and for the club and that's it. It's been dealt with, now let's move on."
On Aubameyang's absence, Arteta added to Sky Sports: "We have a way of living together, we have to respect each other and that's it, but he is an incredible guy.
"He's one of the most important players in the team, he's our captain, but these things happen. We move forward and we enjoy the victory tonight.
It is not easy to sit on the bench for big games but it's a part of football. I don't think there was anything against [Pierre-Emerick Aubameyang]. It was the decision of the coach. I will let you ask him about this, but I don't think there is anything wrong with this."
"We have a lot of things going on in our lives, people are finding it difficult to handle a lot of the restrictions and it's part of our job."
When asked if the striker had arrived late for the game, a theory put forward by former Arsenal player Freddie Ljungberg in the studio prior to the game, Arteta said: "I will never tell anything that happens in the dressing room. I can tell you the reason but not the facts."
Arteta refuses to give up on top-four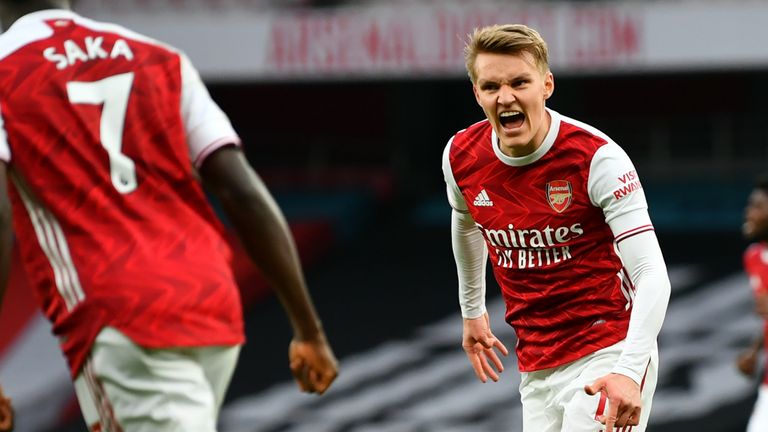 Victory moves Arsenal four points behind Spurs but they remain outsiders to break into the top four - although Arteta is refusing to give up on the race.
"I think while it's mathematically possible, we're going to believe and we're going to give it a go for sure," said.
"We know that we have to be extremely consistent to have any chance in the next two or three matches to be very close to them.
"But we're going to give it a go and keep trying, going game by game."
3 - Mikel Arteta is the third consecutive Arsenal boss to win his first home league meeting with Spurs, following Arsène Wenger and Unai Emery. Tradition. pic.twitter.com/FW3eEo7Zt5

— OptaJoe (@OptaJoe) March 14, 2021
Ljungberg: Arteta won on all fronts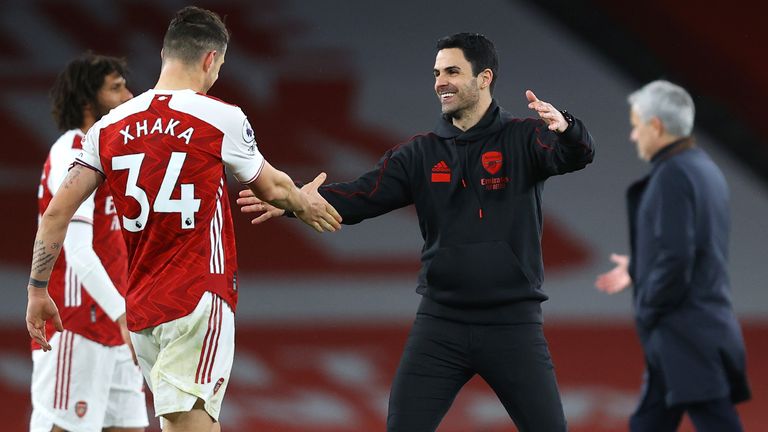 Former Arsenal forward Freddie Ljungberg on Super Sunday:
"It's difficult. If you take out your best striker, it makes you nervous.
"If you lose the media will go after you but when it happens like today, it's perfect.
"You make the point about whatever it is that has happened, you punished him and you still won the game.
"Arteta won on all fronts."