Arsene Wenger feels Arsenal can win Champions League if they beat Bayern
Arsene Wenger feels Arsenal could go on and win the Champions League if they can knock out Bayern in the last 16.
Last Updated: 16/02/13 2:01pm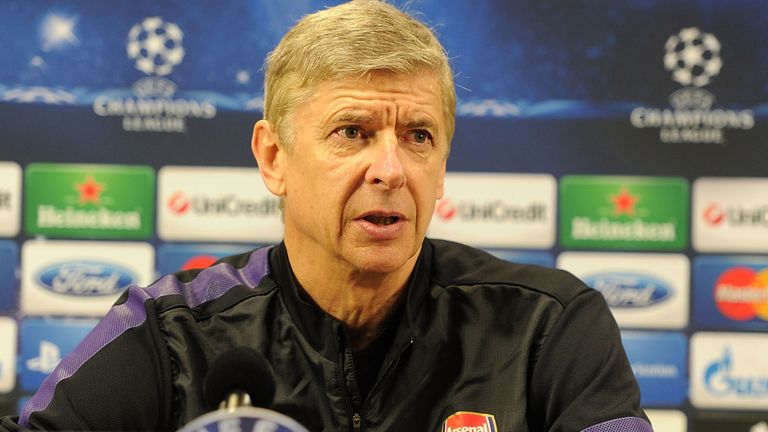 Wenger is ready for a busy week, with an FA Cup fifth-round clash with Blackburn coming before their return to European action, and he hopes the Gunners will come out of the back-to-back games with added confidence.
Bayern are looking to go one better in the Champions League, after losing last year's final to Chelsea, and they go into Friday's Bundesliga clash with Wolfsburg on an unbeaten run that dates back to the end of October.
But Wenger believes victory over one of Europe's best teams could be just the tonic they need heading into the final third of the season.
"We have a big game on Tuesday against Bayern. If we get past them, then why should we not go further and win it?" Wenger said.
"It looks at the start that (winning) the FA Cup is more reachable than any other competition, but you don't really know how difficult it will be.
"If you compare it to the Premier League certainly, we have more chances to do it because we are too far away in the Premier League.
"The FA Cup is an important target for us. We always take it very seriously, we're on a good run and we want to continue the run. We are the favourites, they're the outsiders, and have nothing to lose.
"However, if you look at who is in the squad, many of their players have Premier League experience, that is why they are dangerous."
Arsenal have fitness concerns over England midfielder Jack Wilshere, who went off at Sunderland last week as a precaution over a thigh problem.
Wenger said: "I will not take a risk. [That is because of] the rest of the season in mind and what happened to him before."
Captain Thomas Vermaelen should be back from his ankle problem, but fellow defender Laurent Koscielny (calf) will be assessed.
Ivory Coast forward Gervinho could be back in contention following the Africa Cup of Nations .
"We will play a team who has a good chance to go through with experienced players," said Wenger.
"We only have big names in our squad, so it will be a team of big names, for sure."
To find out more about live football on Sky Sports, Click here