Moment is now for Arsenal to target title push, says Gary Neville
Arsenal can celebrate coming fourth, but must now set their sights higher, says Sky Sports' Gary Neville.
Last Updated: 19/05/13 7:25pm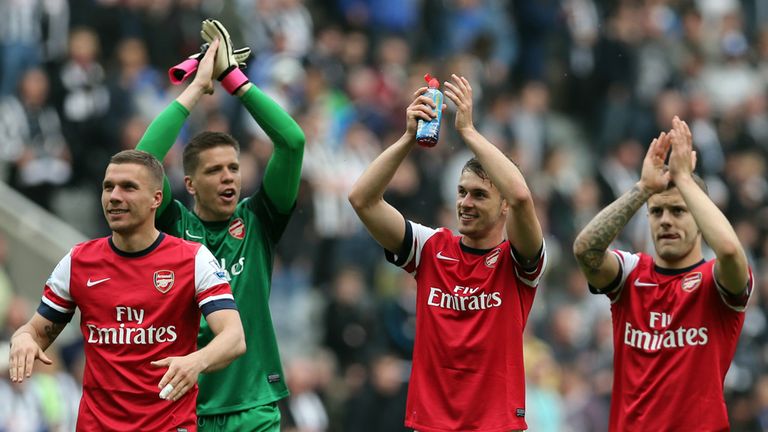 The Sky Sports pundit was speaking after watching the Gunners secure fourth spot and maintain Arsene Wenger's record of qualifying for Europe's premier club competition in all 15 of his full seasons in charge of the club.
A magnificent end to the season, which saw them pick up 26 points out of a possible 30 following their derby defeat to Tottenham, saw them overhaul their north London rivals, but Neville feels a club of Arsenal's stature should be challenging for first rather than fourth.
"It's a good time to keep perspective," he said on the final Ford Super Sunday of the season.
"They're celebrating - and rightly so - but let's not forget they finished fourth. This is Arsenal, who have set a standard in these last 15 years under Arsene Wenger and they've now got to go for it. They have got to improve next season.
"For two years on the bounce they've shown great character and spirit. We wrote them off after the Arsenal v Tottenham game at White Hart Lane. We thought this was going to be the year where Arsenal fell short.
"Everything changed after that. Tottenham helped them by losing at home to Fulham and giving them a little bit of impetus.
"Arsenal have done really well for the level they are at, but as Theo Walcott says, they now need to be challenging for a title."
Trend
Star players such as Robin van Persie, Samir Nasri and Cesc Fabregas have left the Emirates in the last few years and Neville called on the club to reverse that trend in the next few weeks by bringing in some big names.
He admires the financial prudency that Wenger and the board have shown since the construction of the Emirates Stadium, but says the moment has arrived for Arsenal to invest in the playing squad and become major contenders once again.
He said: "They're all going to be going after a group of players that there are not enough of. They're not the biggest payers in the world and are they going to change that? They're not the biggest payers of fees or wages.
"It's all about the club that gets out of the blocks quickest in transfers and goes early. You've got to get your business done early. Don't think it can wait until August and then pick somebody up.
"You've got to go early in June and by the end of June you've got to have the three players you want and if anybody else comes then fair enough. I think Arsenal have got to go hard and early.
"They've spent £9million net in 10 years and maintained the level of consistency of getting in the Champions League.
"They've built a football stadium, they're paying off their debt and they're nearly there. If they move up now it will look like one of the most magnificent managerial performances when you look back in history.
"Half the Arsenal fans are annoyed because they think they should be doing more and should be doing better, but of all the madness and debt that surrounds football, what they have done is absolutely the right thing.
"What they now need to do, having nearly paid off their debt, is they need to go now. I think he knows, Arsene Wenger, that moment is now."