Arsenal boss Arsene Wenger reveals failed chase for Gonzalo Higuain
Arsenal boss Arsene Wenger has admitted he tried to sign Gonzalo Higuain in the summer before he joined Napoli.
Last Updated: 29/09/13 10:47pm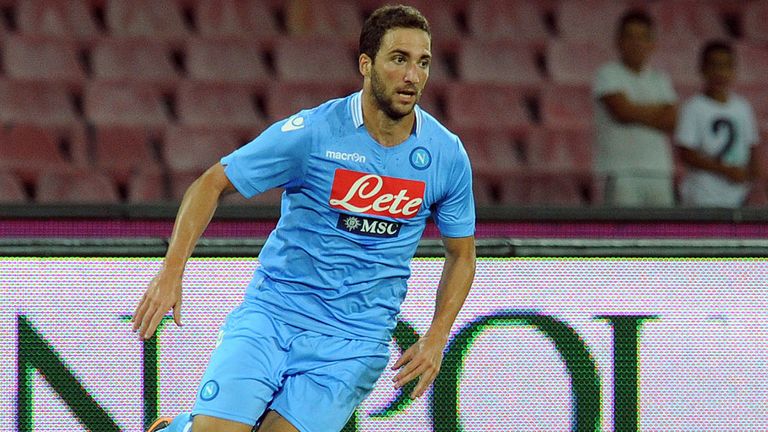 Wenger made Higuain one of his top targets in the summer as he looked to bolster his attacking options, but lost out to Napoli for the former Real Madrid hit-man.
Higuain will line-up against Arsenal in the Champions League and Wenger admits he is a big admirer of the Argentine international
"We were working on two or three targets and he was one of them," Wenger told Arsenal's official website. "It didn't come off in the end, that doesn't take anything away from his quality.
"Napoli took advantage of that at the right moment, it's more about timing as well.
"In the end Real Madrid sold two great players, one of them went to Napoli, one [Mesut Ozil] went to Arsenal so it's 1-1 on that front."
Meanwhile, Higuain claims he has no regrets about choosing Napoli over Arsenal and believes the Gunners have got a bargain in landing his former Real Madrid team-mate Mesut Ozil.
The two former Real stars will lock horns on Tuesday night at the Emirates and Higuain rates Ozil as one of the best players in the world.
"I had the pleasure to play with Mesut and he is one of the best players in the world," Higuain is quoted as saying in the Sunday People
"As a striker he is a dream to play with because you know he is going to create you chances.
"When you look at some of the crazy fees that players moved for this summer, you have to say that Mesut was a great deal for Arsenal."
Higuain insists he is happy with his decision to snub other interest to make the move to Napoli.
"I am very happy that I have joined Napoli," continued Higuain. "We have started well in the league in Italy and have got off to a good start in Europe too.
"I know there was other interest from England and Italy, but I am very sure that I made the right choice by joining Napoli and have no regrets.
"It is a club where I can achieve everything I want."