Premier League: Jack Wilshere delighted with Arsenal's consistent start
Jack Wilshere believes Arsenal have displayed a ruthless instinct during their strong start to the season.
Last Updated: 30/09/13 11:44am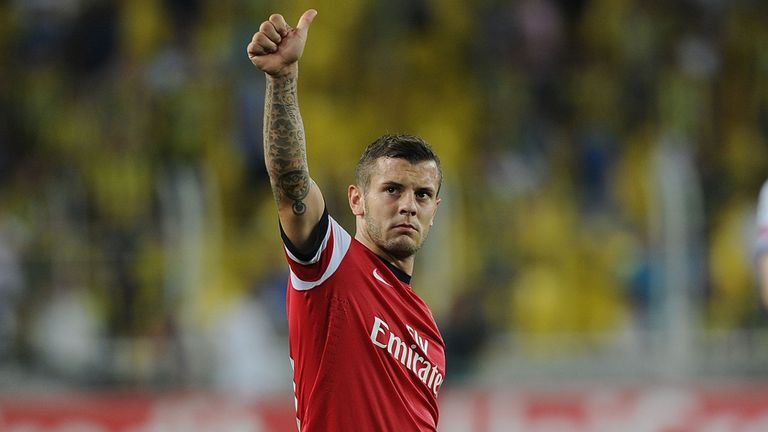 The Gunners opened up a two-point lead at the top of the table after Saturday's 2-1 win at Swansea extended a club-record run of away victories to 12.
Manchester United and Manchester City suffered surprise defeats earlier in the day and Wilshere is glad that Arsenal are taking full advantage of slip-ups from their title rivals.
"We started that towards the end of last season. We knew we had to win games because we had to get that fourth spot," said the England international.
"We were going towards the end of the season, knowing that because we had dropped points earlier in the season, we had to win games.
"I think we have continued that into this season and that's vital in this league. You saw that Manchester United and Manchester City slipped up and I remember a few years ago when I broke into the team, when they lost, we lost. We failed to capitalise, but this time we did, which is nice.
"I think we showed a different side to our game and hopefully we can continue that."
Ramsey 'unreal'
Wilshere's fellow midfielder Aaron Ramsey has made a flying start to the season, scoring eight goals in eight games to help his side recover from an opening-day defeat by Aston Villa.
The Welshman appears to have put his injury problems behind him and Wilshere feels a full-fit Ramsey can be a goal threat throughout the season.
"His fitness levels are not normal," said Wilshere.
"He's naturally so fit he can score at any time in the game. You can see that. He's pushing on in the 94th minute. Not many players can do that.
"He's got his confidence back, which is nice to see.
"If he carries on playing the way he is and working hard, he can improve further.
"He's got a great appetite for the game. He wants to improve. He's training all the time. He's not missing a training session, he's fit, he's young and he's showing his best form.
"Hopefully he can continue it and get even better."