Capital One Cup: Arsene Wenger will mix up Arsenal team v Chelsea
Arsene Wenger will put his faith in a mix-and-match Arsenal side as he prepares to renew rivalry with Jose Mourinho.
Last Updated: 29/10/13 7:02pm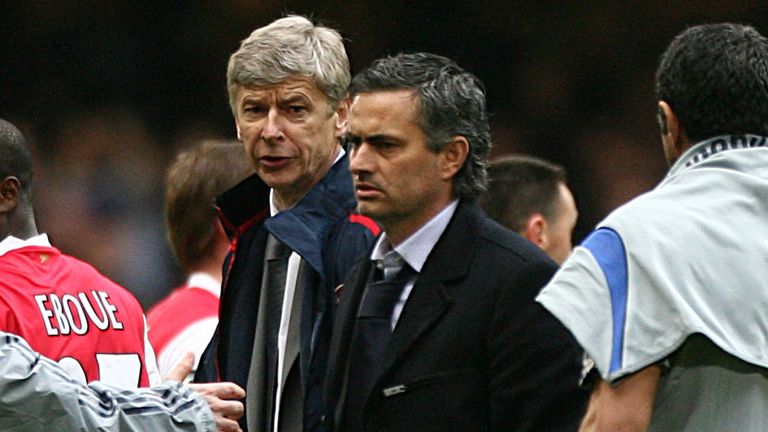 Wenger is yet to record a victory over Mourinho's sides in eight meetings and is "absolutely" focused on getting the better of Chelsea in the fourth round of the Capital One Cup.
But neither that aim, nor any residual memory of an at-times bitter relationship with Mourinho, will prevent the Arsenal boss resting some big names at the Emirates.
"The team will be a mixture, with some players who are at the moment not getting the games they need and deserve, and also one or two young players," Wenger said.
"I have to get that mixture right and I will leave myself time to decide how I do that."
Mourinho famously branded Wenger a "voyeur" during his first spell at Stamford Bridge after taking exception to the Frenchman talking about his team.
And the bad blood spilled from the dugout to the pitch during a 2007 League Cup final which saw three red cards and both managers enter the field of play to break up a mass shoving match.
Mourinho, who comes into tonight's game bemoaning Chelsea's lack of recovery time following Sunday's victory over Manchester City, is adamant any animosity is in the past.
"We have no problems," said the Portuguese, before smiling when he added: "Unless you tell me that he had an influence on this (the scheduling). If you tell me that..."
Mourinho has indicated he will make wholesale changes, while Arsenal's line-up is likely to include Nicklas Bentdner, who is back in the ranks after loan spells at Sunderland and Juventus and a collapsed move to Crystal Palace.
"Nicklas has been away for a lot of time and he was half - when I say half I mean 80 per cent - out of the club," Wenger said. "In the end, he decided to stay and I stopped him from going.
"I must say, he responded in a positive way and that is what we want from him now. I believe he is physically ready, a very good player and if his concentration is 100 per cent to commit himself to the cause he will be a great asset for us. But that is what you want from him in this game."
Put down a marker
Wenger also believes the contest provides a chance for Arsenal to prove their Premier League title ambitions are serious.
The Gunners are searching to end their eight-year trophy drought and hold a two-point lead over second-placed Chelsea in the table.
He said: "This is a good opportunity for us to show we are ready. I'm not sure it will affect the Premier League at all, but you know people will look at you, how you behave and whether you can win the big games like that.
"What is for sure is you that you want to win these sort of games. That has a certain psychological influence on the team.
"What we want to do is to show that we want to be considered as a very strong team and that comes only with the way we play and with the results, so let's just focus on that. We will absolutely go for this game."
Arsenal v Chelsea is live from 7.30pm on Sky Sports 1.