Arsenal's Wojciech Szczesny out to bounce back against Wigan after Everton loss
Wojciech Szczesny has admitted that Arsenal's FA Cup semi-final against Wigan Athletic is now 'massive'.
Last Updated: 12/04/14 5:32pm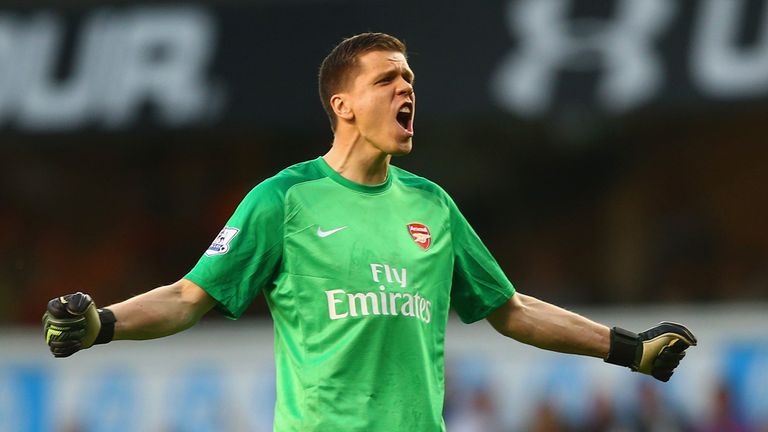 The Gunners are fighting to finish fourth in the Premier League after Sunday's 3-0 defeat at Goodison Park left them just a point above Everton in the race for UEFA Champions League qualification, having also played an extra game.
They can still claim some silverware this season after making it through to the last four of the FA Cup, and Szczesny is determined to avoid another slip-up at Wembley on Saturday.
He said: "The FA Cup game becomes massive now. Obviously it is the only trophy we can win.
"It would be a massive boost for the club and a lift for the team if we could win it for the fans. We have plenty to play for still.
"We have an FA Cup semi-final and we are still in fourth in the Premier League so it is up to us to switch on very quickly, focus and forget about this.
"I think we have to put it behind us and switch on. I hope we can kick on and get back to where we want to be."
Arsenal have played in the Champions League for 16 years in a row and Szczesny hopes their experience will help them to stay ahead of Everton.
He added: "We can do it. We have people who have been there and know how to do it.
"We have managed to do it every single time in the past, so even though we have not been at our very best, we know we can pick ourselves up and still get there.
"The defeat against Everton hurts of course. It was bad. But we have experience in getting into the top four, and that will help us this time."