Arsene Wenger vowed to continue to ignore his critics after seeing Arsenal win 1-0 at West Brom in the Premier League.
The Frenchman came under fire from a section of Gunners fans at The Hawthorns on Saturday as they unveiled a banner reading 'Arsene, thanks for the memories but it's time to say goodbye'.
Victory, earned by Danny Welbeck's second-half header, saw Arsenal seal successive wins after their 2-0 Champions League victory over Borussia Dortmund on Wednesday night.
Arsenal fans remain frustrated with the Gunners' failure to compete for the title, though, with some calling for Wenger to leave after 18 years in charge.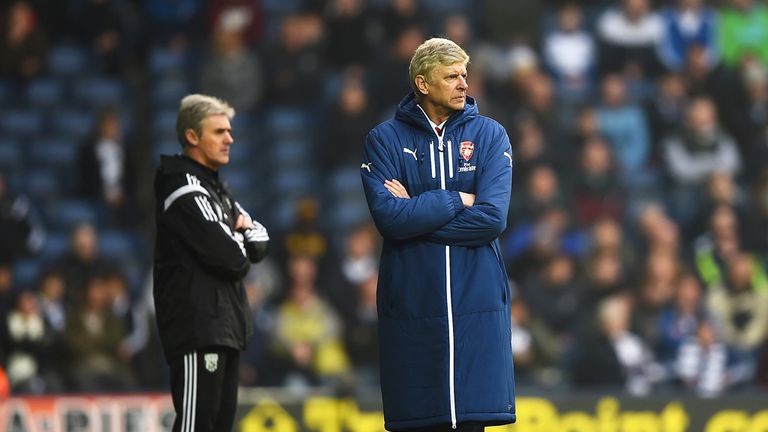 Every person has responsibility to prepare for the future, always.
However, the Gunners boss, who refused to answer questions about the banner, was unmoved.
Wenger said: "I don't comment on that. Do I need to say it again? I don't comment on your question."
He added: "Every person has responsibility to prepare for the future, always."
And Wenger insisted he had also ignored any criticism after last Sunday's 2-1 defeat to Manchester United.
"The only thing we can do is let people talk. We live in a society of total opinion but we live off not what we say but what we do, and what we do is on the pitch," he said.
Welbeck's winner was his 11th goal of the season for club and country to leave Wenger grateful after Nacho Monreal, Kieran Gibbs and Alex Oxlade-Chamberlain picked up injuries.
"He is a striker who plays left, right and centrally but for me it's not important. We have so many crosses coming in you always have a chance if you stay on the flanks as well," he said.
"It was a game we controlled well until we scored the first goal but we didn't take our chances. Having given what we did on Wednesday it could have been difficult to finish the game off."
Saido Berahino hit the bar late on for the subdued Baggies, who have now lost three straight games.