Referee Chris Foy's decision to disallow Jan Vertonghen's goal in Tottenham's win over Sunderland is indefensible, says former referee Dermot Gallagher.
Speaking to Sky Sports News HQ, Gallagher gave his opinion on five controversial incidents from an exciting weekend of Premier League action. 
Jan Vertonghen's disallowed goal
WHAT HAPPENED: With Sunderland goalkeeper Costel Pantilimon out of his goal, Tottenham counter-attacked in the closing stages. Jan Vertonghen was played through on goal by Paulinho and duly slotted the ball into the empty net but was flagged offside by the linesman despite being at least four yards inside his own half when the ball was played.
DERMOT'S VIEW: "One thing I learned when I was a referee is don't defend the indefensible. It was a big error, there's no doubt about that. I wonder if the linesman has seen the goalkeeper up and his thoughts are there is only one defender back. And he's completely lost sight that he's in his own half. He's four yards inside his own half, there is no doubt whatsoever. It's an error and he'll be very, very upset. It's a shame as when it got to 90 minutes at the weekend, I turned to Howard Webb and said 'what a great weekend it's been so far' and then it went into stoppage time and that happened. Howard cuffed me around the head and said 'thanks very much, Derm'."
Arsenal penalty: Vincent Kompany on Nacho Monreal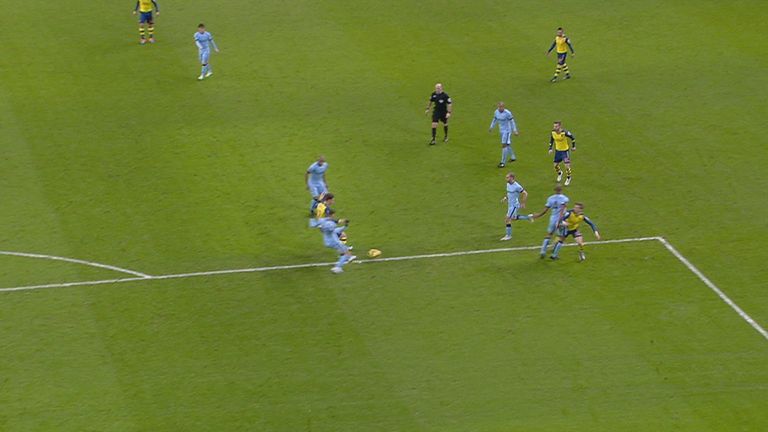 WHAT HAPPENED: A rapid one-two on the edge of the Man City box between Aaron Ramsey and Nacho Monreal released the Spanish full-back in behind Vincent Kompany, who was caught flat-footed. The City skipper stood his ground as Monreal flew past him and the Arsenal man was sent flying in the area.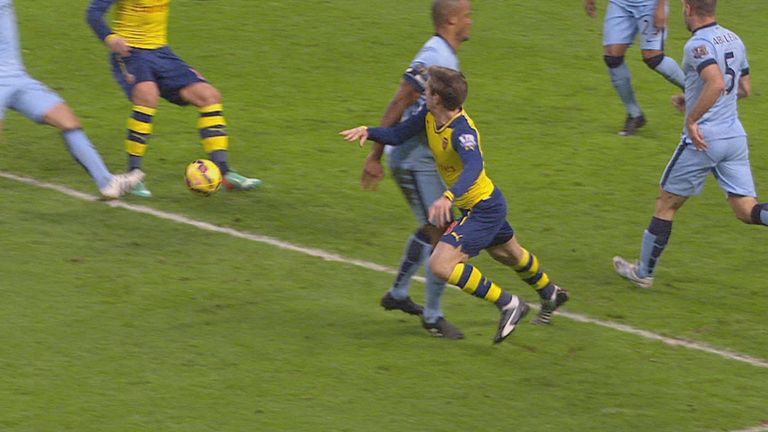 DERMOT'S VIEW: "I thought it was a penalty at the time and I've seen the footage since and nothing has changed my mind. Kompany realises that Monreal's going to go around him and he's put his knee out very subtly. It's a penalty all day long. I don't think anyone can defend that."
Jose Fonte handball? 
WHAT HAPPENED: With the clock ticking down at St James' Park, Newcastle were 2-1 down and desperate for an equaliser. Emmanuel Riviere fired a shot which hit Fonte on the arm in the area but referee Robert Madley chose not to award a penalty.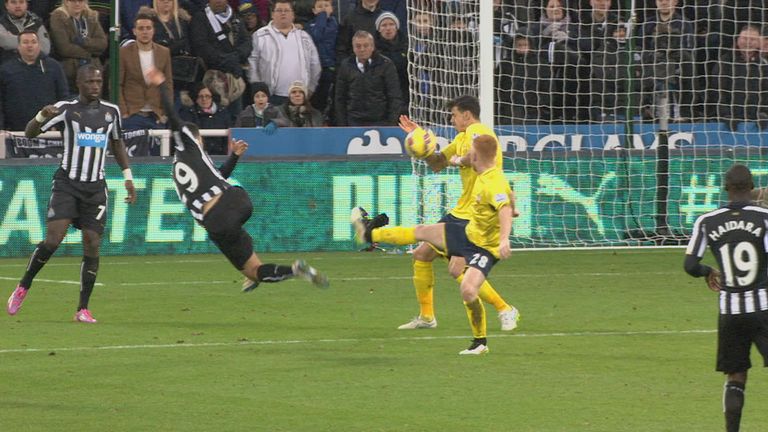 DERMOT'S VIEW: "I think if a penalty had been given, no one could have argued. Handball decisions are very emotive this year. We talk about arms in unnatural positions. I know the ball goes fast but if you raise your hands that high, you run the risk. In the defence of the referee, it's come very quickly. A player may have moved across his line of sight, so he may not have seen it as clearly. If he gives a penalty, Fonte couldn't argue with it."
Burnley's first goal: Kieran Trippier corner
WHAT HAPPENED: Kieran Trippier took a corner for Burnley that was clearly outside the corner quadrant and Ben Mee headed home to give his side the lead.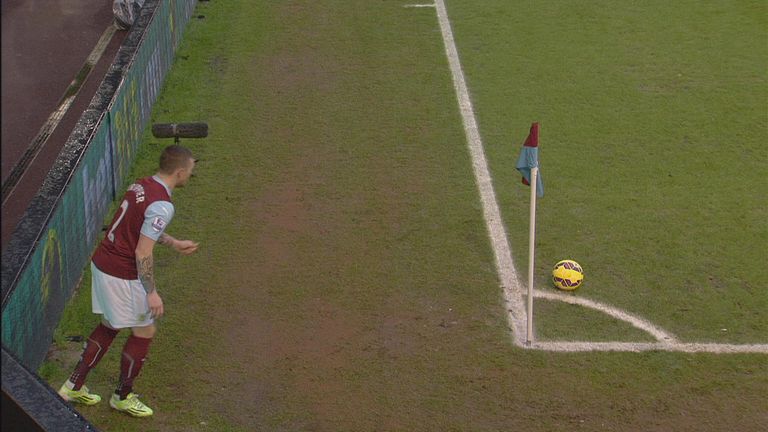 DERMOT'S VIEW: "It's quite intriguing. In the old days it had to be inside the circle, now it has to be overhanging and the ball is obviously quite wide. When it's that close, I don't know why the referee doesn't make him put it back as then we wouldn't be talking about something like this."
Burnley's second goal: Scott Arfield on Joel Ward
WHAT HAPPENED: Scott Arfield's never-say-die attitude was on full show as he chased down Joel Ward, who was trying to usher the ball out of play down the left flank. He got to the ball and then looked to have shoved the Palace player off the pitch before playing an exquisite ball through for Danny Ings to score.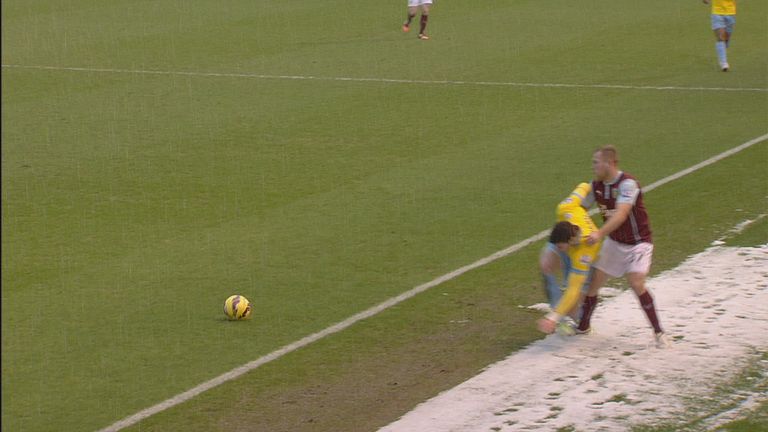 DERMOT'S VIEW: "I didn't think it was a foul. When the players have clashed they've gone out of play with their own momentum, it's very difficult for a player to give a foul in that position. What I will also say is that it was a very good call by the assistant. Many people thought it was offside, but it wasn't."