Arsenal vice-captain Per Mertesacker believes the signing of Gabriel Paulista has given the squad enough depth to last the distance and challenge for honours again this season.
The 24-year-old Brazilian arrived from Villarreal in a £13.5m deal and will provide some much-needed cover in the centre of the defence.
Mertesacker believes it is just the acquisition that Arsenal needed, having seen the likes of Nacho Monreal, Calum Chambers and full-back Mathieu Debuchy, now set for another spell out injured, having to step into a makeshift central role earlier in the season.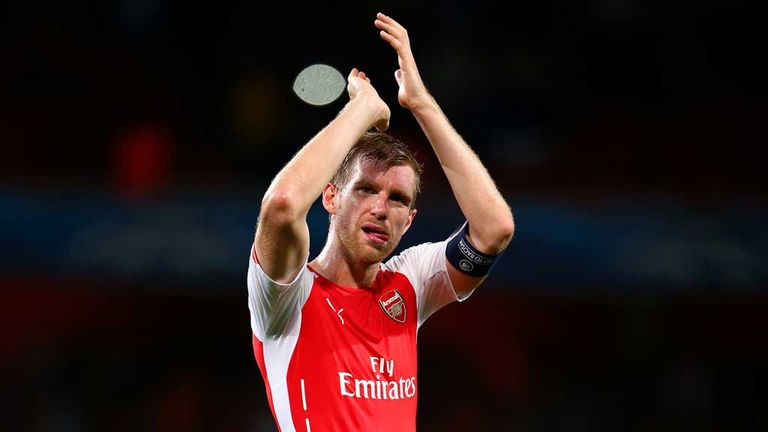 We suffered a lot at times with injuries, but also with results. We want a very deep squad and we look much better now
"We suffered a lot at times with injuries, but also with results. We want a very deep squad and we look much better now," said Mertesacker, who continues to skipper the side in the absence of injured midfielder Mikel Arteta.
"We have that competition in our team and have an addition with a centre-back now, so I think we have a deep and good squad at the moment."
Gabriel watched from the Emirates Stadium bench as Arsenal demolished Aston Villa 5-0 last weekend and is expected to be involved in the squad again for Saturday's north London derby at Tottenham.
Mertesacker, who took some time to settle alongside Laurent Koscielny following an £8m switch from Werder Bremen on deadline day in August 2011, believes the Brazilian has the qualities needed to make an impact in the Barclays Premier League and Europe, where Arsenal will face Monaco in the last 16.
"He is a talent and I think we will get him to the level he needs because he has that potential," said Mertesacker.
"From my point of view, it is very promising because we were short at the back, especially in the centre position. We suffered a lot and had to change so many positions.
"It was a needed position to get everyone going and keep him on his natural position is very important."
The likes of Francis Coquelin and Chuba Akpom, the 19-year-old forward set to agree a contract extension, have both impressed in recent performances.
Mertesacker, 30, believes having such young talent ready to step up to the challenge can only be positive.
"They have played an absolutely fantastic role and will get the experience now," the German said.
"That is really important, when there is an injury crisis, they can step up and can have a real impact. You could see (against Villa) that they are able to do that."
Arsenal could move just three points behind second-placed Manchester City with what would be a sixth successive victory on Saturday lunchtime.
Mertesacker, though, maintains it is very much still a case of taking things one match at a time.
"It is not our major focus at the moment to look forwards too much," he said.
"Next we have a very important away game. We are very close to each other in the league, are two London rivals. Last season we did quite well at White Hart Lane, so will try to repeat that.
"But now they have a new manager and there has been some change in the squad. It will be a good game, with an early kick off, so we need to be fresh."