As Arsenal and Chelsea prepare for battle, how Jose Mourinho 'still gets under Arsene Wenger's skin'
By Patrick Davison, Sky Sports
Last Updated: 26/04/15 11:23am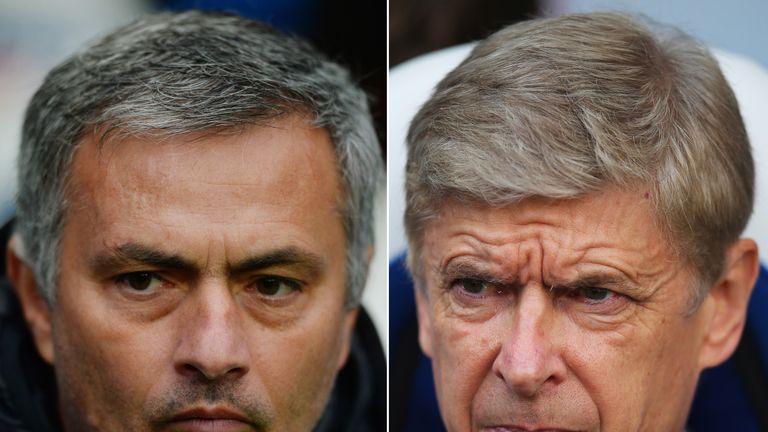 Arsene Wenger has not got one over on Jose Mourinho in 12 attempts and, as Sky Sports' Patrick Davison reports from a revealing press conference, it seems the Chelsea boss still gets right under the Arsenal manager's skin...
The Arsene Wenger you see at his weekday press conferences is very different from the man you meet on matchday.
For interviews on game day he's tense, guarded - and grumpy if he loses.
Don't get me wrong, he's polite and can give a good interview, but there is very little of the off-air conversation you occasionally get with other managers. What you see at home is what we get in the tunnel.
I remember once talking to him about The Invincibles and making him smile when reminding him that the full name of one of Arsenal's back-up goalkeepers that season was Rami Shaaban, but that's as good as it's got for me.
All this is perfectly understandable - he has other priorities! - but from a reporter's perspective, matchday changes him more than most.
On a Thursday or Friday morning at Arsenal's London Colney training ground he's another person altogether - warm, engaging and absolutely fascinating to listen to.
The first press conference I ever went to with Sky was at Arsenal's training ground in 2006.
Wenger did interviews for the English press, French radio, German radio, Japanese TV and then us – English TV – at the end. I was blown away, it was so impressive. (I believe we were also interviewing Cesc Fabregas the same day but he forgot and was at home playing video games when he got the call to come back which, to be fair, he did!)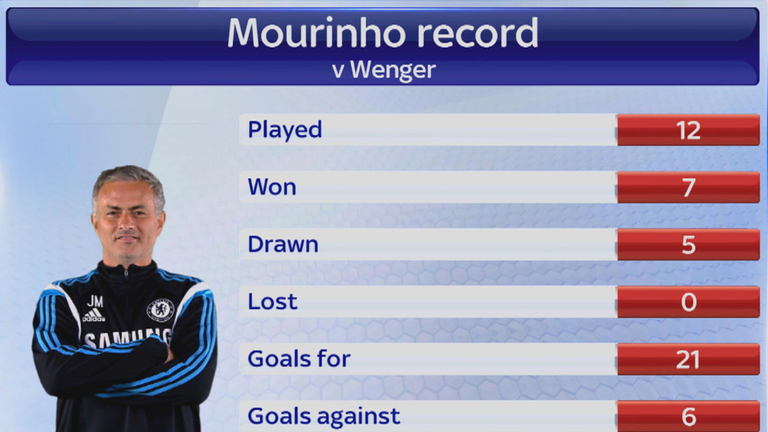 'Abrupt reply'
Those 2006 interviews were to preview a Super Sunday game at Upton Park that is memorable not so much for the fact that Arsenal lost it to a late Marlon Harewood goal, but more because of a touchline altercation between Wenger and the then West Ham manager Alan Pardew, that took place in the aftermath of the match's decisive moment.
Pardew got under Wenger's skin with his celebrations that day, although the two have since patched things up.
This Sunday the Frenchman faces another man with whom he's had a touchline tussle - a boss who's got under his skin more than any other and someone with whom he's never patched things up.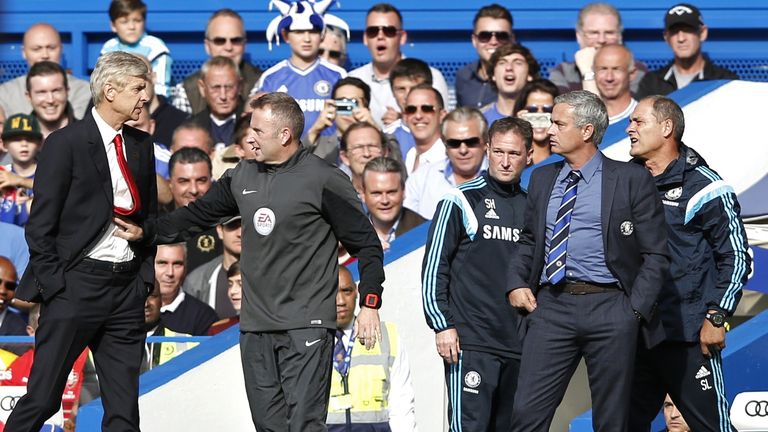 When Jose Mourinho's name came up for the first time at this week's press conference his relaxed, calm demeanour immediately shifted. The guard, usually reserved for matchdays, was raised.
"Has Mourinho changed from how he was 10 years ago?" came the question.
"I don't want to talk about that," was the abrupt reply.
Wenger was not critical of Mourinho once on Thursday, but, in some ways, the faint praise was just as damning.
"Chelsea's strengths are they are very efficient on counter-attacks, very efficient on set pieces" he said of the champions-elect.
 "Is Jose Mourinho a tactical genius?"
"It's your job to judge all the geniuses you meet," he quipped in what was, admittedly, another good-humoured exchange.
I couldn't help recall his reaction to finding out the Chelsea v Manchester United score last week, "1-0? Ah, the usual," he said. A not-so-sly dig at Mourinho's methods?
Rivalry ignited
It was a similar dig that seemed to begin the war of words between two of the great Premier League managers a decade ago.
Wenger raised concerns over Chelsea's tactics saying, "once a sport encourages a team that refuses to take the initiative, the sport is in danger."
Mourinho's response was to describe Wenger as a "voyeur" and the rivalry was well and truly ignited.
Since then it has rarely let up for long – reaching its verbal peak last February when Mourinho described Wenger as "a specialist in failure" and getting physical when the Arsenal manager shoved his counterpart during a touchline argument at Stamford Bridge in October.
Wenger's real problem with Mourinho, though, has got nothing to do with what's said in press conferences. It's that, in 12 attempts, he's never beaten him.
On Sunday, as he looks to end that run, I expect to find Arsene Wenger very much in 'matchday mode'.
Victory would break the Chelsea manger's hold over him, add to his Arsenal's growing belief and just about keep the title race alive.
Watch Arsenal v Chelsea live on Super Sunday from 3.30pm on Sky Sports 1 HD.