Sam Allardyce is unsure if Everton will do much January transfer business, given a number of injured players are set to return, although admits they do need a striker.
The Toffees went five games unbeaten in the Premier League with a 3-1 victory against Swansea on Monday evening, with Dominic Calvert-Lewin, Gylfi Sigurdsson and Wayne Rooney on target.
Following the game, Allardyce said he was undecided on what Everton would do in the January transfer window with a number of key players set to return from injury, including Yannick Bolasie, Ross Barkley and Leighton Baines.
"We've got a number of players out injured that will come back and that will make us so much better as a squad," he told Sky Sports.
"Those players have a huge amount of Premier League experience that you can put in when they're ready with all the games coming up. The quicker we get the squad into place, the more I can look at the market and say 'how much do I really need?'
"Yes, a frontman, if there's another goalscorer. I'm hugely pleased with what Dominic has done this season, and if there is a striker around in January who is good enough for Everton is another matter.
"Really, after that, if all the players can get fit who are injured, I'm not sure we have to do too much business after that and see where we go."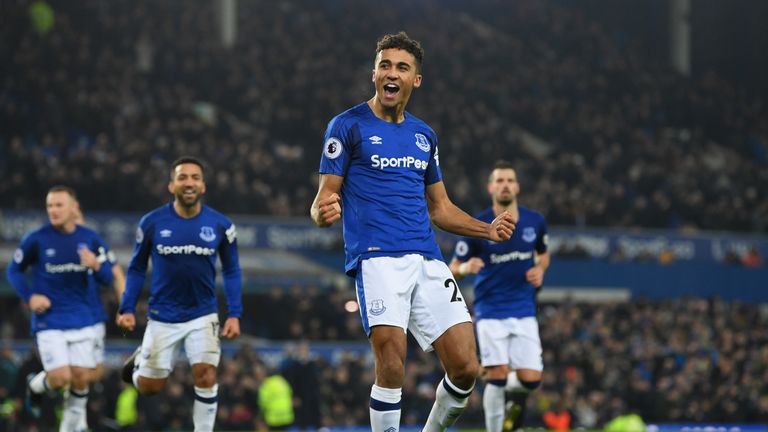 Allardyce has overseen a remarkable turnaround at Everton. The club were 16th when he was appointed but are now ninth and just six points behind Tottenham in seventh.
"Top half I think [is the target now]. Not to get carried away, but delivering 13 points out of 15 is an outstanding feat from where we came from and what position we were in when I watched the West Ham game," he said.
"We've scored 11 goals in the last five games, we've kept a number of clean sheets. We didn't today which I'm disappointed about, but we've recovered from that.
"A team that comes from 1-0 down to win shows that there is a lot of character which may have been missing before I got here. That character was there today when we needed it.
"You need a special player sometimes to pull something out of the bag and that was Gylfi. It settled us down and from there, it looked nice and comfortable but it wasn't like that until the second goal went in.
"It was a great three points considering how poorly we played in the first half."