Premier League: Everton legend David Hickson has passed away
Everton legend David Hickson has passed away after a short illness.
Last Updated: 08/07/13 9:48pm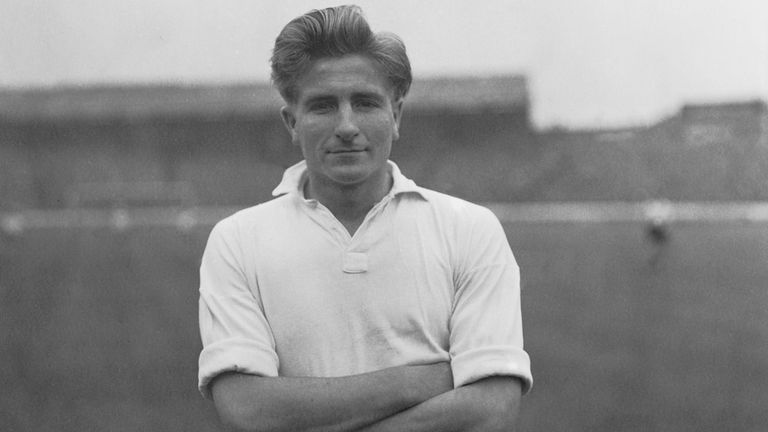 Hickson was 83 years old when he died and was still a regular at Goodison Park last season.
He had two spells at Goodison Park and was also the only man to have played for all three Merseyside clubs, having appeared for Liverpool and Tranmere Rovers in a prolific career.
The centre-forward hammered 25 league goals in the successful promotion campaign of 1953/54 but, after one season back in the top flight, Cliff Britton sold Hickson to Division One rivals Aston Villa.
He failed to settle in Birmingham though and following a spell at Huddersfield which was similarly short-lived he returned to Everton in August 1957.
Goals were harder to come by second time around, after 71 goals in 151 games in his first spell, so Hickson moved across Stanley Park to Liverpool in November 1959.
He earned the nickname the 'Cannonball Kid' at Anfield but left the Reds in 1961 to join Cambridge before later representing Bury and moving to Tranmere, where he spent the final two seasons of his career.
Goodison Park was his spiritual home though and he once said: "I would have died for Everton. I would have broken every other bone in my body for any other club I played for but I would have died for this club."
Everton chairman Bill Kenwright led the tributes to a man he described as his "one true hero".
"Dave Hickson made me an Evertonian," he said. "More than anyone, or anything, he was responsible week in, week out for me making the journey by bus and tram to Goodison Park. As a somewhat timid seven-year-old he gave me the courage to dare.
"In the eyes of my generation of Blues, Dave was a colossus. In my seven-year-old eyes he was simply the greatest centre-forward on the planet. In my 67th year on that planet I am still of that opinion.
"Thank-you 'Cannonball Kid' for the Inspiration.
Current Everton captain Phil Jagielka said: "Dave was always a friendly face at Goodison Park and he loved watching the team.
"There are many people who knew him better than me but he would come into the dressing room after games to take our Man of the Match into the lounges and he loved being amongst the lads.
"He was clearly an immensely popular person with everyone at Goodison and the supporters idolised him. He was a legend and always will be.
"On behalf of all the players at Everton I'd like to send our sympathy to the family. It's a desperately sad time for all of us here at the club but even more so for his family."