Romelu Lukaku is bolstering Chelsea's title bid, says Everton defender Phil Jagielka
Everton captain Phil Jagielka admits that Romelu Lukaku is bolstering Chelsea's title charge.
Last Updated: 29/11/13 11:29am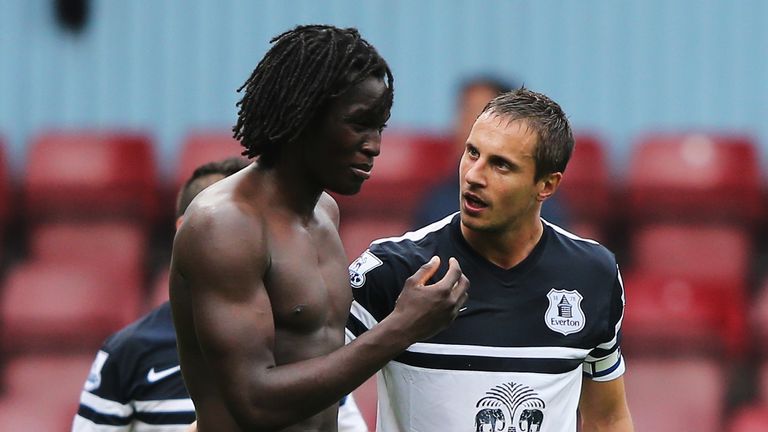 Lukaku joined Everton on loan on deadline day and has since emerged as one of the Premier League's top scorers.
The Belgium international's most recent goals came in last weekend's Merseyside derby draw with Everton which resulted in Liverpool dropping two points.
"It's not a bad idea and a way at looking at things from Chelsea's perspective," Jagielka told the Daily Mirror.
"Unfortunately for Rom, with Chelsea mainly playing one up front, he had a big decision to make whether to stay there and play five or 10 games a season or do what he did when he went to West Brom last season.
"I think he made the right decision. That's already been proven and we're only a third the way through the season.
"Potentially it can work for Chelsea. He can't play against Chelsea, but can against everyone else.
"If he helps us perform against the so-called big boys and rivals of Chelsea, then it will be a very good decision by them.
"Rom has played a massive role with his goals, but also his presence on a day-to-day basis lifts everyone.
"He's hard work to train against, though. I try to stay as far as way as possible.
"We don't do too much contact stuff, but when we do it is difficult - as it is playing against any of our attacking players.
"I try to use my brain a little bit and choose him on my team or make him go on the left of the forwards. It makes my life a bit easier."
Top-four ambition
Given Everton's excellent start to the new season, Jagielka admits thoughts have turned to a possible top-four finish.
"We have pretty much finished outside of the top four, being one or two of the best teams for last 10 years and so have had that question thrown at us a few times," he said.
"We would love to say 'yes, we can finish in the top four' but we have not proved that. The only way we can prove we have the confidence to be up there is to hopefully keep winning games, picking up points and keeping ourselves in the mix for as long as possible.
"Some of my most memorable nights have been in the UEFA Cup. It would be nice to get back there and the fans do love those trips. I'd love to go one step further and have the possibility of playing in the Champions League.
"And if we had a magic fairy to come and lend us a bit of money for a while, it would make it a little easier. But if we have to do things the hard way, we will do.
"It's all about giving ourselves the opportunity come the last five to 10 games of the season to be pushing for at least a Europa League place, if not a little bit higher."