Birch confident on Pompey
Portsmouth administrator Trevor Birch remains quietly confident the financially-stricken Championship club will find a new buyer.
Last Updated: 17/02/12 7:04pm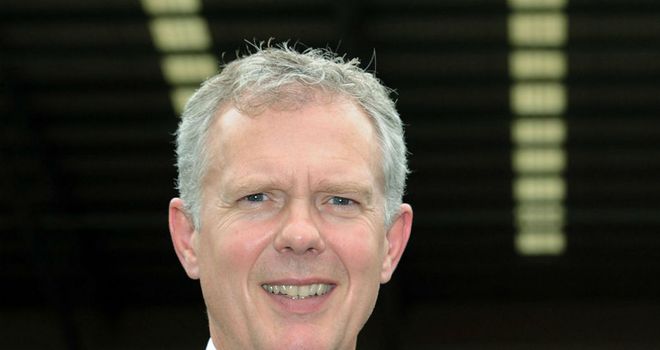 Portsmouth administrator Trevor Birch remains quietly confident the financially-stricken Championship club will find a new buyer.
The Fratton Park club entered administration for the second time in two years on Friday due to debts of around £4million.
Former player Birch has worked with Leeds, Everton, Derby and Sheffield United and has experience of helping clubs in crisis.
Birch, of accountants and business advisors PKF, is eager to find a new owner and the 54-year-old is hoping his appointment will encourage interested parties to come forward.
New face
"I suppose the supporters of Portsmouth are happy that there's time for a new face, a new change," he said in an interview shown on Sky Sports News.
"So let's hope we can achieve something successful going forward.
"There needs to be a new face for the supporters, a new face that is looking at every aspect of the club. Just to give it some new vitality.
"I suppose I'm used to dealing with clubs in crisis. You could say most of the Championship is in crisis. 30 per cent of the clubs in the Championship are paying wages in excess of 100 per cent of turnover. So that in itself tells a story. I'm used to dealing with that kind of pressure.
"Obviously the intention is to try and sell the club as a going concern. You have to travel hopefully and confidently. Hitherto there has always been somebody to come out of the woodwork to buy football clubs. Maybe this appointment might be the impetus for somebody new to come out and make a bid.
"I think just looking forward is the most important thing for us now to try and achieve some stability and to put the club on an even keel going forward."
Asked if there was a message for the club's fans, he replied: "Keep the faith. Keep supporting and hopefully we'll find a solution together."
Decision
Her Majesty's Revenue & Customs have welcomed the decision from the High Court to appoint PKF as administrators, overlooking Hacker Young who had previously undertaken the role for Portsmouth.
"HMRC is pleased that the court agreed with our view that the creditors of any business have a right to expect that the administrator in these circumstances is completely independent," a statement from HMRC read.
"HMRC felt strongly that the appointment of Hacker Young as administrators to Portsmouth FC, whilst at the same time being administrators for the parent company CSI and its previous roles with the various Portsmouth Football Clubs, would present issues of conflict.
"This is why we suggested the appointment of PKF whose knowledge of the football industry and lack of previous connections to Portsmouth FC should reassure creditors."