Portsmouth Michael Appleton backs Adam Webster for international honours
Portsmouth boss Michael Appleton has assured young defender Adam Webster he will soon win international honours.
Last Updated: 05/10/12 5:46pm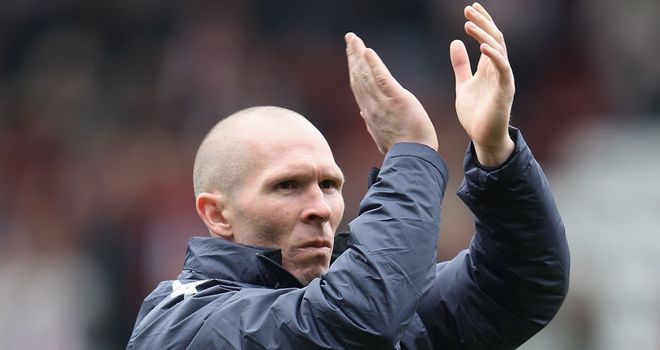 Highly-rated stopper Webster has been the subject of three requests from the Football Association to link up with the England under 19s.
However, Appleton has been forced to block the requests as he requires the 6ft'4in 17-year-old for duty at Fratton Park."
Wesbter, who is thought is to be attracting the interest of a number of Premier League clubs, has yet to win any international honours due to Portsmouth's need to have him available for their League One campaign.
Appleton has every sympathy for Webster, but insists the time will come for Webster to represent his country.
"Adam will play for one of the young England teams, whether it's under-19s, under-21s, whatever," Appleton told The News.
"I have got absolutely no doubt about that because he is in and around it now and has been recognised and is good enough to do it.
"I would just love to be in a position where I could allow him to be a young international.
"I am in contact with Noel (Blake) and the people at England and they understand the position we are in.
"It's not as if we are saying "no" and he is nowhere near the team or not even in the squad or on the bench and not even looking like coming on.
"If that was the case then I would have no problems.
"Even if it was one of our development group players and England wanted him then there would be no issues with that at all.
"But because it is a kid and we are where we are, Adam is going to have to play a lot of football.
"That is the third time now Adam has either been on standby or called up.
"But because of where this club has been over the last 11 months I have been here, he has not been able to go.
"So the actual football club has put him in a position where he has not been able to be an international player."