Mauricio Pochettino proud of Tottenham performance after Stoke win
By Patrick Surlis
Last Updated: 19/04/16 12:01pm
Mauricio Pochettino insists Tottenham will keep fighting to pressure Premier League leaders Leicester City after their 4-0 victory over Stoke.
Harry Kane and Dele Alli scored two each as Spurs swept Stoke aside at the Britannia on Monday Night Football, narrowing the gap on Leicester to five points.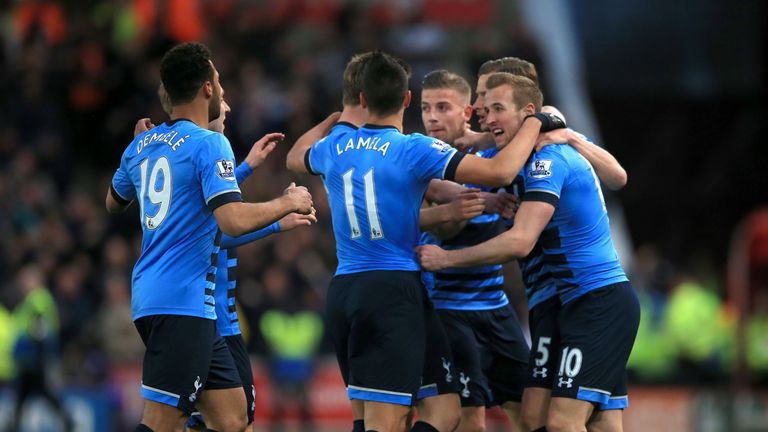 The Foxes dropped points against West Ham on Sunday, and Pochettino was proud of the way his players dealt with the situation to take advantage of their rivals' slip.
"It was a great game and I'm very pleased with the performance," Pochettino said. "The players deserve full credit for this game because it was difficult from the beginning.
"We are still fighting. Our dream is to fight and put pressure on Leicester and I think it was fantastic, the performance and the result.
"It was a tough game and Stoke wanted to win from the beginning. I think we showed our personality, character and good qualities.
"It was one of the performances that you feel more proud of because the players played with character to deal with the pressure to try to catch Leicester. It is never easy but we showed big character.
"We showed hunger and passion, and we showed we enjoy our game. It is fantastic to work with them every day. I feel fantastic and very happy because I have a squad that feels the passion for the game and they deserve the praise and full credit for the season."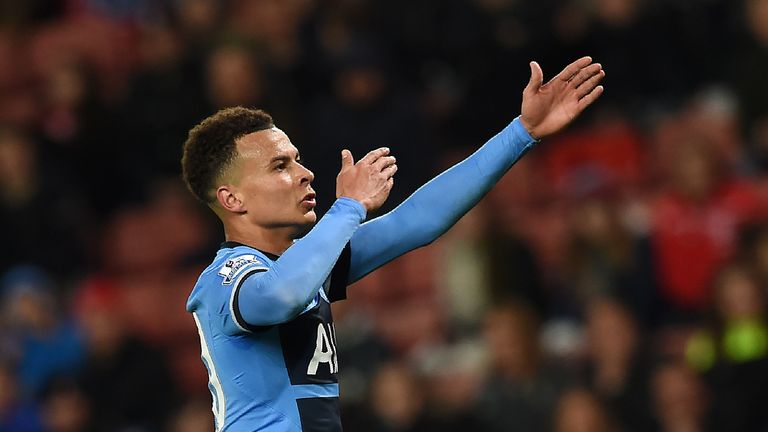 Kane put Spurs in front after just nine minutes, but the visitors had to wait until midway through the second half before Alli chipped home to put Tottenham in control.
The England midfielder then missed an open goal, leading Pochettino to fall to the floor and punch the ground in frustration, before Kane added the third and Alli volleyed home the fourth.
But on his reaction to Alli's miss, Pochettino said: "I felt a little bit ashamed. I went back to the dugout and said 'I think I fell down, no?' My assistant said yes and I feel very bad now.
"During the game sometimes you are very excited and you create the chance and not score and not kill the game. You are very focused on the match and you want to win and this sometimes happens.
"Sorry for all, and I feel a little bit embarrassed."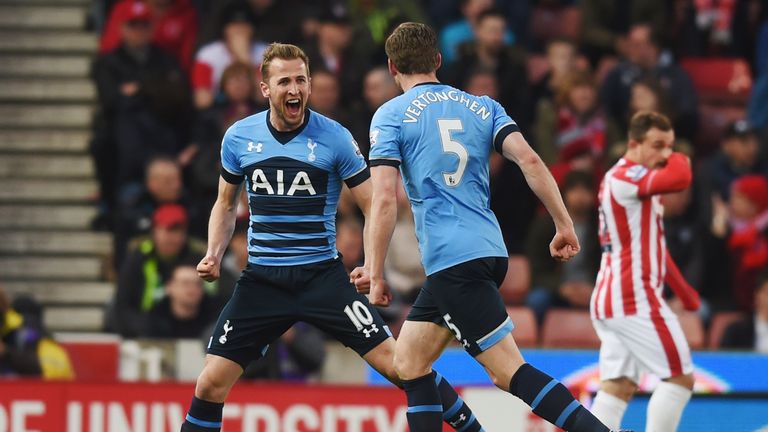 Spurs will wait for Leicester to face Swansea next Sunday before taking on West Brom at White Hart Lane on Monday Night Football next week, and Pochettino admits he is hoping for a similar situation.
"We need to wait for Leicester first, and then we play Monday again," he continued. "Maybe this is good, because I said I shared a glass of wine with the president and maybe we need to repeat again on Sunday at my house."