Tottenham look set to be without Harry Kane for a number of weeks after the striker twisted his ankle during their FA Cup win over Millwall on Sunday.
The England international, who missed 10 games earlier this season with a similar injury, has suffered ankle ligament damage although the problem is not thought to be as severe as the previous occasion.
Kane has 19 goals from 22 Premier League appearances this season, putting him level with Romelu Lukaku atop the league's scoring chart.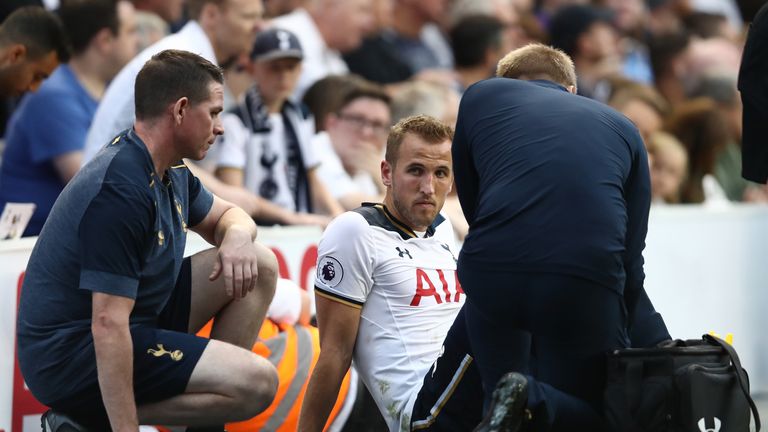 So how will Tottenham cope without their talisman? It seems a straight choice between the versatile Heung-Min Son and the more traditional No 9 Vincent Janssen.
"I think we have different possibilities, to play different formations," Mauricio Pochettino said on Sunday. "Of course I'm disappointed by Harry's injury but now we have to find solutions and see which is the best player to replace him."
It's hardly a ringing endorsement of Janssen, the striker many presumed was signed for this very eventuality, but the Dutchman's poor form has offered Son the chance to earn back-up duties.
He did so effectively earlier this season when Kane suffered a nasty ankle injury against Sunderland, starring as a central striker in Spurs' 2-0 win over Pep Guardiola's Manchester City. Pochettino hopes that can provide a blueprint.
"One of our best performances was against Man City and he was the striker when Harry was injured," Pochettino added. "I'm very happy with Son. He can play like a striker."
But that display was a rare bright spot in an otherwise bleak period of Tottenham's season, as Kane's 10-game absence coincided with their worst winless run of the campaign so far.
Tottenham's 10 games without Kane (September-November)
| | | |
| --- | --- | --- |
| EFL Cup | Spurs 5-0 Gillingham | W |
| Premier League | Boro 1-2 Spurs | W |
| Champions League | CSKA 0-1 Spurs | W |
| Premier League | Spurs 2-0 Man City | W |
| Premier League | WBA 1-1 Spurs | D |
| Champions League | Bayer Leverkusen 0-0 Spurs | D |
| Premier League | Bournemouth 0-0 Spurs | D |
| EFL Cup | Liverpool 2-1 Spurs | L |
| Premier League | Spurs 1-1 Leicester | D |
| Champions League | Spurs 0-1 Bayer Leverkusen | L |
They went six games without a victory, dropping points to West Brom, Bournemouth and Leicester and losing to Liverpool in the EFL Cup and Bayer Leverkusen in the Champions League.
They scored significantly fewer goals too, which is no surprise considering Kane has netted more than one-third of their league goals this campaign.
Three teams held Spurs scoreless in that spell - Bayer twice and Bournemouth. In the 29 games featuring Kane, opponents have kept clean sheets on just four occasions.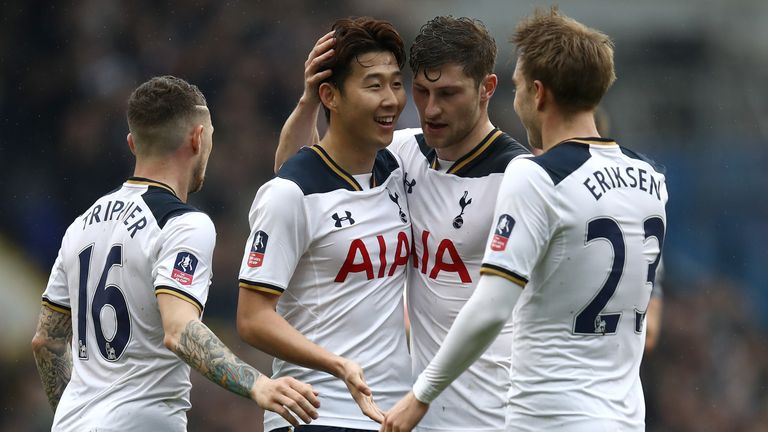 Son's style of play is very different to the striker he could be replacing and it's telling Pochettino is already talking about "different formations".
The South Korean did a solid job when previously called upon but few players can match Kane's output in front of goal. Spurs average 2.2 goals-per-game with him in the team compared to 1.6 goals-per-game without him.
Some type of tactical reshuffle may be required to close that gap, especially if Son leads the line.
Tottenham with and without Harry Kane
| | | |
| --- | --- | --- |
| Games played | 29 | 12 |
| Win percentage | 58.6% | 50% |
| Goals-per-game | 2.2 | 1.6 |
You get a similar result when looking at Tottenham's win percentage, which falls from 58.6 per cent with Kane to 50 per cent in his absence.
Pochettino publicly remains bullish on both Janssen and Son, but when picking between the two, the latter holds a sizeable statistical edge over his Dutch team-mate.
Tottenham's options up front
| | | | |
| --- | --- | --- | --- |
| Minutes played | 2422 | 2092 | 1145 |
| Goals scored | 24 | 14 | 5 |
| Mins-per-goal | 100 | 149 | 229 |
| Shot conversion % | 25% | 17.5% | 11.9% |
He boosted his chances further on Sunday after Kane limped off, scoring a hat-trick to help his side ease into the FA Cup semi-finals.
His goalscoring record is not spectacular - 14 goals in 35 appearances across all competitions - but it's significantly better than the five goals managed by Janssen, who was made to wait until his 30th appearance before he scored from open play.
That came against third-tier Millwall - the fifth goal in a 6-0 rout - but perhaps it will prove to be the spark he needs to get his Spurs career rolling. Pochettino certainly hopes so.
"In the last few months he's stepped up and started to work better and I was happy in the way he was performing on the training ground," the Tottenham boss said.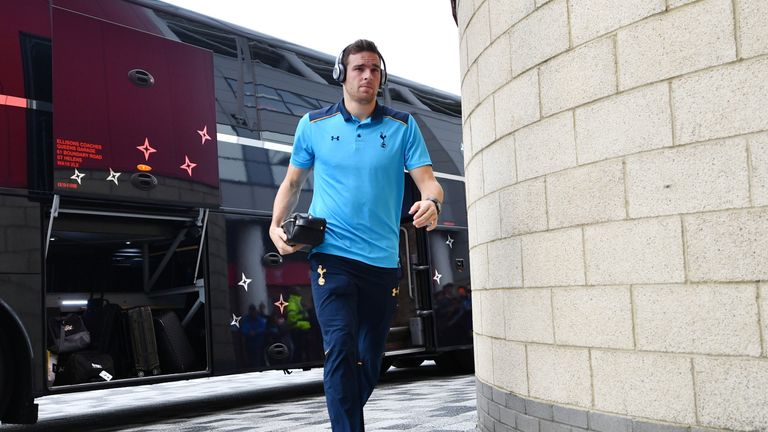 But a closer look at other key metrics leaves the choice between Son and Janssen looking relatively straightforward.
Of the trio, Kane's strike rate of a goal every 100 minutes is comfortably superior - by contrast the Netherlands forward nets every 229 minutes. Son falls between the two, averaging a goal every 149 minutes.
That ratio compares favorably with other Premier League forwards, putting him just behind Alexis Sanchez (142 minutes-per-goal) and Diego Costa (134 minutes-per-goal).
It's a similar story when you look at shot conversion. Kane is out in front, finding the net from 25 per cent of his shots. Son takes second place with 17.5 per cent converted, while Janssen scores from just 11.9 per cent.
Tottenham's schedule appears favourable over the next few weeks, which could help see them through to Kane's return.
They play just one team in the top 10 - 10th-place Southampton live on Nissan Super Sunday - in a five-match run before hosting Arsenal in the north London derby on April 30.
It's something for Tottenham fans to cling to but it's otherwise fair to suggest losing a player of Kane's quality is likely to affect their form regardless.
How do you think Tottenham will cope without Harry Kane? Leave a comment below or tweet us @SkyFootball