Tubes meets Mauricio Pochettino: 'Spurs up against excited and motivated opponents at Wembley'
Last Updated: 20/10/17 3:23pm
Tottenham are fighting against excited and motivated opponents who see Wembley as a cup final, says manager Mauricio Pochettino.
In an exclusive sit-down with Soccer AM's Tubes, the Argentine opened up on Spurs' opening two months at Wembley, their home for the season while White Hart Lane is rebuilt.
Tottenham are currently third in the Premier League, but only earned their first Wembley victory in the top flight last Saturday against Bournemouth at the fourth attempt. Pochettino, whose side host Liverpool on Super Sunday, explained how he believes opposition players approach playing at the famous stadium.
He told Tubes on Soccer AM: "Now, maybe, the feeling when we go to play against Swansea, Burnley, Chelsea, Bournemouth, Barnsley, the opponent are preparing their game so excitedly.
"[At first] in your mind you cannot recognise [the difference]: you are going to play Wembley, you know it's a Premier League game against Tottenham. But when you are under stress, it's like auto-pilot, they say: 'Oh, we are at Wembley, we are in a cup final, we must give our best!'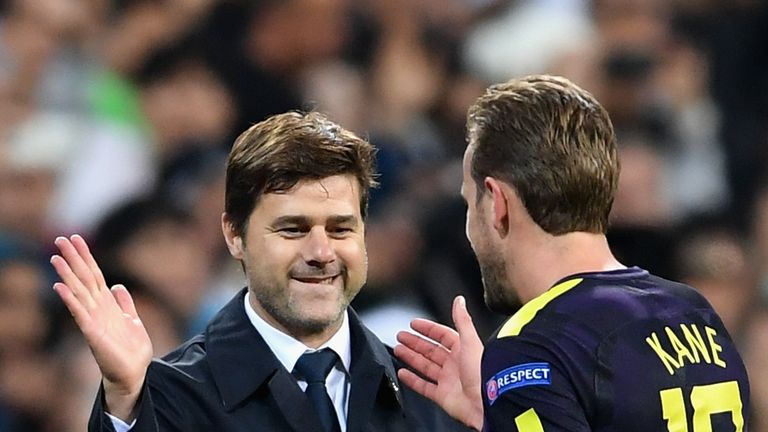 "The opponent is so excited to come to Wembley. White Hart Lane was so difficult for the opponent. We are fighting to create our own home at Wembley, and also fighting with the motivation of the opponent, because in their mind they are playing a cup final. When you play a cup final, you give your best, that bit extra.
"I think today it is so important to be strong in our mind, to create that feeling about Wembley, to enjoy Wembley."
Before the season, Spurs' critics highlighted their poor record at Wembley in cup competitions in recent years, having gone the entire season unbeaten at White Hart Lane last term.
Pochettino says the side are starting to feel more comfortable at Wembley, and though he insists they must put the old White Hart Lane in the past, he cannot wait to play at the new stadium next season.
"We need to put White Hart Lane in the past, we cannot live today with the idea that White Hart Lane was fantastic. We need to put in our mind now that Wembley is fantastic, our home, and that we need to perform there. We must create that idea in our mind. If not, if we don't believe we will be fantastic, it will always be a disaster!
"I think we're starting to feel good, we are more comfortable. It's true we can't repeat the same as White Hart Lane, it's a different stadium.
"But we are only going to play one season, and I am so excited to play in the new White Hart Lane. It will be a fantastic pitch, stadium, one of the best in the world, and I think that motivates me, excites me the most."
Guillem Balague's book on the manager, 'Brave New World: Inside Pochettino's Spurs', is released on October 26, with the Argentine admitting in the book that he would like to manage England one day.
He expanded on his feelings to Tubes, saying he is "so happy" in England, but stressed that Spurs are the only team on his mind for now.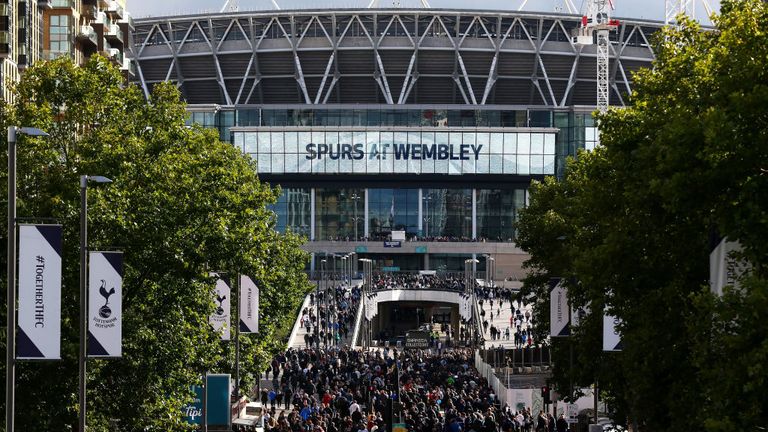 "I think every single person has a dream, a challenge, aims. I think one day, why not? I am so happy here in England. Maybe if you're in another country you say no, if my culture, ideas, philosophy does not fit with the country, players or mentality.
"I enjoyed Spain a lot, managing Espanyol, but really I want to enjoy a little bit more. I arrived at Southampton and Tottenham, and I am so happy here in England. The people treat us so well. We start to feel very comfortable, and why not one day? It's true that now I am so happy here, we have a lot of challenges ahead, and my relationship with Daniel Levy is fantastic.
"I learn a lot with him every single day, and it's so difficult to find that relationship between manager and chairman, where you are close, someone you can learn from and trust.
"But always, I say the same. It's about him, it's up to him whether I stay here, for a day, a month, a year."
Watch Tubes' extended interview with Pochettino on Soccer AM from 10am on Saturday morning, Sky Sports Premier league, Sky Sports Football and Sky One.
And watch Tottenham host Liverpool at Wembley on Sky Sports Premier League on Super Sunday from 3.30pm.