Harry Kane wants to be a 10-season wonder like Lionel Messi and Cristiano Ronaldo
Last Updated: 27/12/17 11:08pm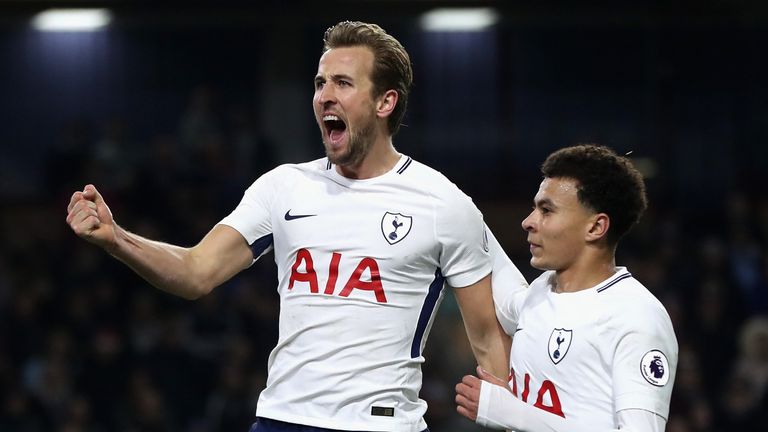 Harry Kane says he wants to continue to prove any doubters wrong by scoring goals consistently for the next decade in order to be considered in the same bracket as Lionel Messi and Cristiano Ronaldo.
Kane's hat-trick in Tottenham's 5-2 win over Southampton on Boxing Day saw the striker set the record for the number of goals scored for club and country (56 goals in 52 games) in 2017, more than Messi (54 in 64 games) and Ronaldo (53 in 60).
The treble also saw him surpass Alan Shearer's record of 36 Premier League goals in a calendar year, set at Blackburn Rovers in 1995.
The Spurs striker was branded by some as a one-season wonder after bursting onto the scene with 21 goals in the 2014-15 season and Kane says that he is still motivated by those comments.
"Does that still spur me on? Probably, it's always in the back of my mind," Kane said.
"I've always said that when people doubt me I want to prove them wrong whether it's at a young age or now, that's just my mindset, something in me since a young age.
"I'll keep getting better, keep trying to improve. I'll keep doing it for nine, 10 seasons and see where it takes me."
Ray Wilkins told Sky Sports News on Wednesday that Kane deserved to be placed in the same bracket as Messi and Ronaldo, but the 24-year-old knows he needs to reproduce his best form over a number of seasons to be considered as good as the duo.
Kane said: "When you look at Messi and Ronaldo, I've obviously still got a long way to go before I can be compared to them but it's a start and that's what I want to do, keep improving and be up there one day.
"That's always the goal, to be bracketed with the best players in the world. Messi and Ronaldo have set that standard for so long now.
"To nick ahead is something I'm proud of and it's just the start for me. I want to do it year in, year out.
"They've done it for eight, nine years now so be classed in that bracket, that's what I've got to do. That's my aim."