Tottenham boss Mauricio Pochettino says Harry Kane hurt by Golden Boot saga
By Declan Olley
Last Updated: 13/04/18 7:01am
Mauricio Pochettino says Harry Kane has been hurt by a social media backlash after his determination to claim Tottenham's second goal in their 2-1 win over Stoke last Saturday.
Christian Eriksen had been credited with the goal but Kane successfully appealed to the Premier League goals panel.
Pochettino revealed he had no involvement in the appeal and insists "it is not a big deal".
But Kane's pursuit raised eyebrows on social media with Premier League top scorer Mo Salah - who is now four goals ahead of Kane in the race for the Golden Boot - questioning the panel's decision.
"Of course he [Kane] never thought that this situation was going to go on to such big things when he was so, so, so, so certain that he touched the ball," said Pochettino.
"It's normal that he was a little bit disappointed because of course Harry Kane and all of our players have Twitter, Instagram, everything. Tottenham fans will back Harry Kane but other fans will kill him.
"[He is] disappointed because he never wanted to create this. For you, sometimes, it is a small or simple thing and they become bigger and bigger and bigger and bigger and you cannot stop it.
"That was what happened. He is going to learn a lot from this."
Pochettino defended Kane's character and says the appeal has not damaged the dressing room with Kane and Eriksen agreeing to the decision.
"Harry is generous and a person who always puts the collective ahead before himself," said Pochettino.
"Harry is a very honest person, he's not going to lie about this situation and it's not a big issue or big deal for the team.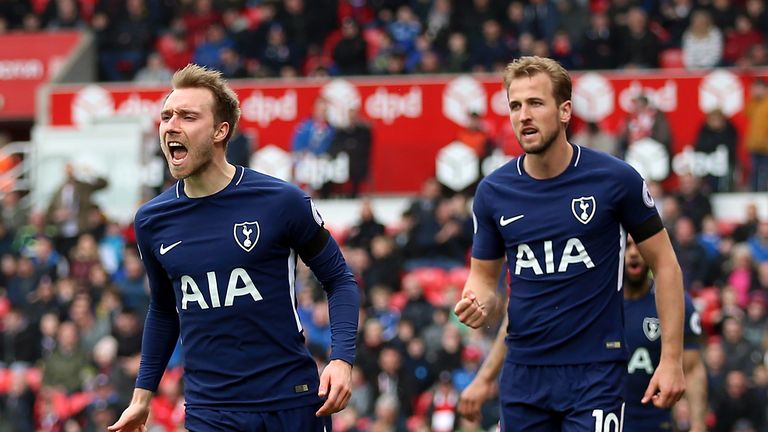 "Of course all strikers need to feel the net and score but Harry always shows his commitment with the team and team-mates.
"I think during the game when they talked, when the goal happened, Harry said to Christian, 'I touched with my right shoulder' and after the game they were happy and Harry said 'It was my goal' and Christian said 'Okay, no problem'.
"For me, I don't care who scores the goals. I care about the three points but it was a club decision to appeal."
Pochettino ridiculed any suggestion the appeal would give Salah added motivation to claim the Golden Boot.
"I don't believe. I don't believe," he said. "I don't believe Salah needs this situation to be inspired... come on, you make me laugh."