Mauricio Pochettino wants Tottenham 'playing for the glory'
By Liam Grace
Last Updated: 31/07/18 10:15am
Tottenham boss Mauricio Pochettino wants his team "playing for the glory" ahead of the new Premier League season.
The Argentine has led Spurs to three consecutive top-three finishes in England's top flight but has failed to land a trophy in his four years in charge, crashing out of last season's FA Cup semi-final to Manchester United.
Tottenham were Premier League runners-up in the 2016/17 season as well as EFL Cup finalists in 2015 and Pochettino wants his team motivated for the new season on August 11 so they can challenge for domestic honours again.
"Of course we need to feel from the World Cup players that motivation, internal motivation to come back and want to keep going," he said. "Playing for the glory and trying to help the team to try to win. That is the most important thing."
Despite being linked to players such as Aston Villa winger Jack Grealish, Tottenham are the only club in last season's top six yet to add to their squad ahead of the new campaign.
Pochettino has previously voiced concerns over the early closure of the Premier League transfer window - with the deadline on Thursday, August 9 - and reiterated that point of view on Tuesday.
"I don't know if we are going to sign or not. We're working on that. I cannot tell you if we're going to sign one, zero or two or three or four.
"We're working. It's true that it's so close, the transfer window is so close, but the club's doing everything to help the team and add some players, more quality, and try to help us in the season to achieve what we want.
"If you compare with Europe I think you are at a complete disadvantage and sure it does not help the clubs in the Premier League.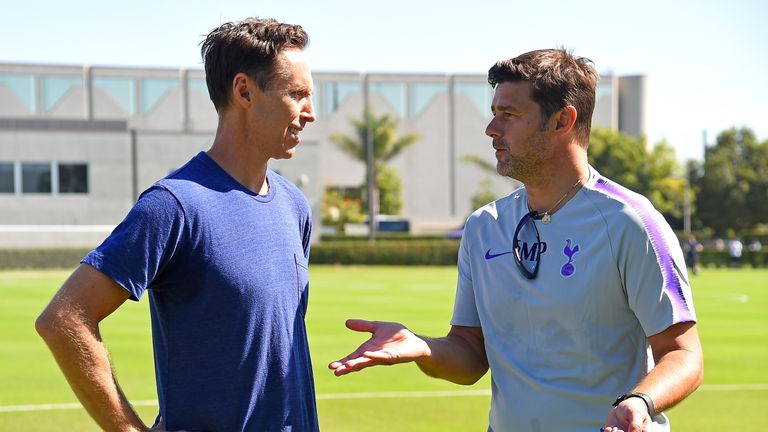 "We are all in the same situation in England. It's clear that today I don't know if the rest of the teams are happy with that decision.
"Personally I think it's not right. In that situation I think it didn't help or it's not going to help the Premier League clubs or the clubs in England to have the same possibility as another contender, because we are going to compete in the Champions League and to have 20 days less is I think not a thing that is going to help you."
In the other direction, Spurs have been linked with the sale of several players, including Toby Alderweireld and Fernando Llorente, a topic Pochettino refused to discuss.
He said: "I don't want to talk about individual situations. It is clear and everyone knows what is going on. All the players have contracts as part of the club and as part of the team until the situation changes."
Tottenham continue their pre-season preparations against AC Milan in the International Champions Cup on Wednesday and Pochettino confirmed there were no new injuries in his squad.
"First of all no injuries," he added. "We want to give minutes to younger players and we want to entertain the crowd.
"We need to make sure we are doing everything we have been doing since day one on the training ground."
Get Sky Sports' dedicated football channels with our new season offer to watch over 500 live games this season. Find out more.