Mauricio Pochettino says Tottenham's stadium situation will make team stronger
Tottenham face Watford in Carabao Cup at Stadium MK on Wednesday
Last Updated: 25/09/18 3:23pm
Mauricio Pochettino says the delays to Tottenham's new stadium need to make the team stronger in their ability to adapt to different circumstances in the future.
Spurs play their home Carabao Cup third-round tie against Watford at Stadium MK on Wednesday night, with their new stadium not ready and Wembley unavailable.
But, Pochettino insists he is looking forward to facing Javi Gracia's side in Milton Keynes, despite some fans voicing their disappointment at the choice of venue and the delays to the new stadium.
"I feel well because we are going to discover another place to play," said Pochettino.
"It's a very nice stadium. It is a beautiful town with an amazing stadium. It was the only option we had to play there and we will try and win the game and enjoy our evening.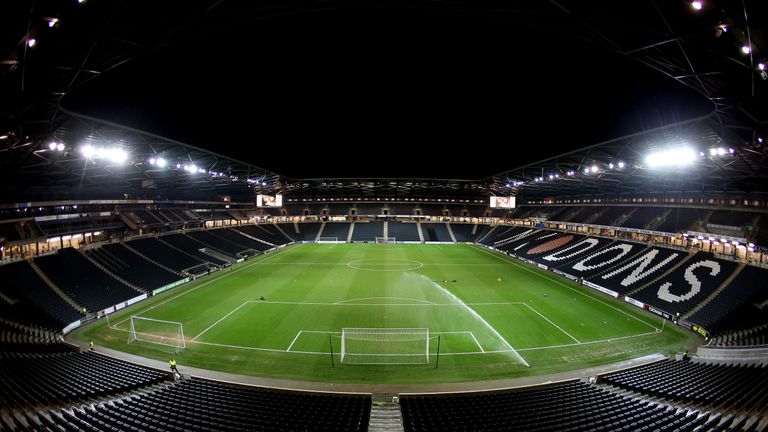 "Our fans feel disappointed like us - I understand that but the players and staff are disappointed that we can't play at our new stadium."
He added: "The situation needs to make us stronger than before, and use that for the future to have the capacity to adapt in every circumstance. For me, I am positive, I want to be positive because I'm an optimistic person.
"I'm not going to blame or complain because now we're going to play Watford in Milton Keynes and it's a great opportunity."
Should Spurs beat Watford on Wednesday, and face a home tie in the next round with the club without a venue, the Argentine says he would be "more than happy" to play in Milton Keynes again.
"We respect Watford, they're doing very well, of course it will be a tough game but after if we win, of course after the draw, we are going to take the decision," said Pochettino.
"If again we need to play at home and it's not possible to play at Wembley or the new stadium, of course I'm more than happy to play in Milton Keynes."
Pochettino also will be rotating his squad for the game, but insists it does not indicate him prioritising other competitions over the Carabao Cup.
"I think we rotate and try to find the best solution to win games, but the obsession here in England is to try to disrespect the player that plays in one or the other competition," added Pochettino.
"For me it's hard to understand, it's like we don't respect the competition or we don't take it seriously.
"When Tottenham are playing tomorrow, we're playing to try and win. When you sign players and you have 24 players in your squad, you need to respect the players."