How Arsenal were voted into the top flight over Tottenham in 1919
Arsenal face Tottenham at the Emirates Stadium on Super Sunday
Last Updated: 28/11/18 6:46pm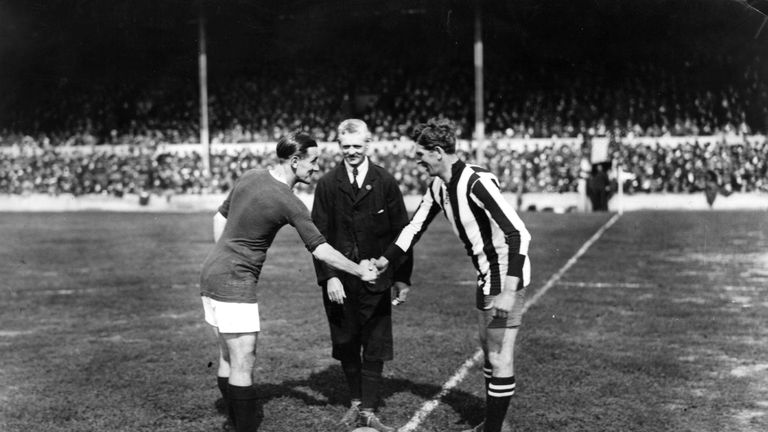 The rivalry between Arsenal and Tottenham is a fierce one but perhaps the most controversial moment came almost 100 seasons ago on March 10, 1919 when the Gunners were voted into the top flight ahead of Spurs. Here's the story of how it happened…
The First World War meant that the football league was suspended following the 1914/15 season, one in which Chelsea and Tottenham had been relegated from the top flight. For the remainder of the war, teams competed in regional competitions.
With the hostilities over in November 1918, thoughts soon began to turn to what would happen when the league resumed. However, the situation was complicated when Blackpool proposed expanding the First Division from 20 to 22 teams.
Who would be included? As the top two in the Second Division in 1914/15, Preston and Derby deserved promotion but would Chelsea and Tottenham still be relegated or would the promoted teams also include Barnsley and Wolves, who'd finished third and fourth?
It was soon understood that Chelsea's nomination would be a foregone conclusion because their relegation had been controversial in the first place. Manchester United had only escaped the drop on the final day as a result of fixing their game against Liverpool.
It was less clear which team would receive the proposed second spot and the canvassing process was underway by January 1919. Tottenham reportedly sent a letter to all other league clubs putting forward their arguments as to why they should be elected to the First Division.
However, somewhat surprisingly, this was not a straightforward choice between allowing Tottenham to remain in the top flight or choosing to promote Barnsley. Arsenal chairman Sir Henry Norris was also pushing hard for his club to be included.
The Gunners had finished only sixth in the Second Division in 1914/15 but were the first southern club to have joined the Football League and Norris, a serving Conservative MP and the mayor of Fulham at the time, was particularly well connected.
When the votes were cast in Manchester on March 10, 1919, after an initial counter-proposal by West Bromwich Albion to allow Chelsea to be included in a 21-team First Division, only six teams voted against the expansion to 22 teams.
Chelsea's inclusion was unanimous. But Arsenal got the second place. It was not even particularly close. Arsenal received 18 votes and Tottenham got eight. There were five for Barnsley, four for Wolves and a half a dozen for other assorted clubs.
Votes received to become the 22nd First Division club in 1919
| Club | Votes received |
| --- | --- |
| Arsenal | 18 |
| Tottenham | 8 |
| Barnsley | 5 |
| Wolves | 4 |
| Nottingham Forest | 3 |
| Birmingham | 2 |
| Hull | 1 |
On the face of it, Tottenham's representatives took the decision well and the club certainly responded the right way on the pitch. They won the Second Division title in that 1919/20 season finishing six points clear of Huddersfield.
As for Arsenal, they have been in the top flight of English football ever since.