Tottenham are taking on Ajax for a place in the Champions League final but Spurs' success owes much to their Dutch opponents. Adam Bate caught up with former Ajax midfielder Enoh Eyong to find out how the club shaped the development of Tottenham's key players Christian Eriksen, Toby Alderweireld and Jan Vertonghen...
Amid the euphoria at the Etihad Stadium after Tottenham's dramatic triumph over Manchester City in that epic Champions League quarter-final, certain Spurs players' thoughts quickly turned to the semi-final and a reunion with their old club Ajax.
Christian Eriksen called it "a fairy tale" and Toby Alderweireld sent a message via social media. "Your boys are coming home," it read.
With Jan Vertonghen and Davinson Sanchez also having arrived at the club from Ajax, there is quite the enclave in Enfield right now. It's a reminder, if any were needed, that the Ajax production line predates the current group of players upsetting the European odds.
While Sanchez joined much later, the trio of Eriksen, Alderweireld and Vertonghen spent their formative years at the fabled De Toekomst training ground as teammates.
They won back-to-back Eredivisie titles together between 2010 and 2012, the first of which was Ajax's 30th - earning them a third star on the badge.
Enoh Eyong was a teammate for both title wins and the Cameroon international midfielder believes it's no coincidence that Tottenham turned to his old pals. It's all part of the Ajax upbringing. Spurs knew exactly what they were getting.
"The concept of Ajax is about the whole philosophy of the club," Eyong tells Sky Sports. "Barcelona are what they are because of Ajax and the ideas that Johan Cruyff took from that. It's the concept of attacking, passing and pressing football. It's always these dynamics.
"That's what defines Ajax. They work on that. There are specific training routines that they do that allow them to play like that. So for them to sign a young player they need to ensure they have the right qualities that can feed into the Ajax way of thinking.
"It's not just about playing well. Yes, the players can shoot, pass and dribble, but Ajax goes beyond that. They want players who can think like an Ajax player because they incorporate that into the way that they train and play. It's the mentality as well as the skills.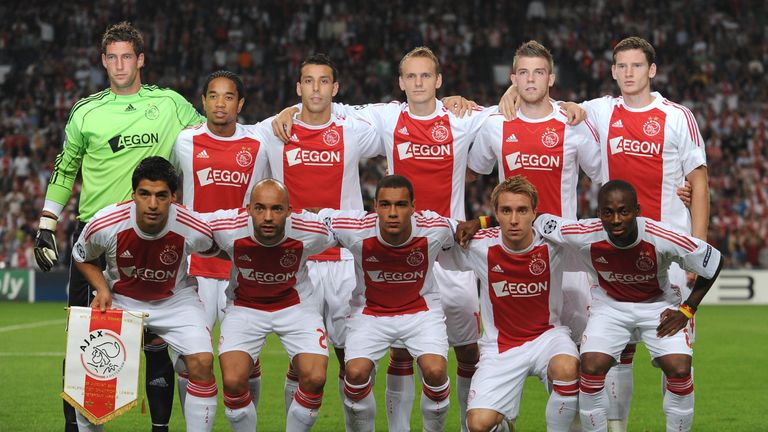 "People see the players but there is a scouting system behind the scenes that targets them. A lot of the Ajax team weren't there as young children of eight or nine. Many were scouted at 14, 15 or 16 from other places and it was easy for them to fit in because they already saw those basic qualities in them that would allow them to blend in with the Ajax philosophy."
That was certainly true of Eyong's former teammates who are now at Tottenham.
Eriksen joined Ajax at 16 from Danish club OB in 2008. Alderweireld was 15 when he was picked up from Belgian club Germinal Beerschot four years earlier, making the same journey that Vertonghen had made as a 16-year-old boy in the previous summer.
Vertonghen's time in midfield
It was Vertonghen who was the first to establish himself, going on to score 10 goals in all competitions during his final season at the club. Now seen as a ball-playing defender, it was his experiences at Ajax, often playing further forwards, that helped him develop these skills.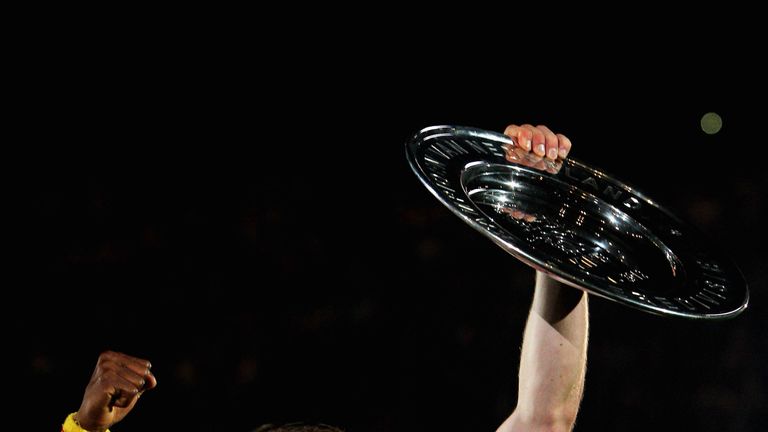 "Ajax played with a defence where one of the defenders always had that liberty to go into the midfield, so Jan was originally more of a midfielder," explains Eyong. "I played alongside him and Jan did that a lot and it helped him to score a lot of goals.
"He is a player who can dribble with the ball and pick a pass. He doesn't just play long balls, he plays through-balls and that ability to pass the ball out from the back, that calmness, is because of his time as a midfielder. I think that made it easier for Jan."
Alderweireld's breakthrough
Vertonghen was soon joined in the team by Alderweireld - two men from the same part of the world but very different characters. While Vertonghen threw himself into Amsterdam life from the outset, Alderweireld has since described the adjustment as hellish, shedding tears about it as a teenager.
"They spoke some Flemish together so that helped them," recalls Eyong. "Personalities shift over time so things could have changed, but I remember Jan as a joker. He can make you laugh. Toby is quieter.
"I remember him being given an opportunity in a Europa League game against Marseille. We lost the game 2-1 but you could already see he was a young lad who was aggressive, hungry and talented. I knew that Toby had quality. He could play from the back and he was calm."
Eriksen's precocious talent
That game against Marseille was in March 2009 and the following January, Eriksen also joined Alderweireld in the first team, stepping up from the youth team.
Eyong was away on international duty at the Africa Cup of Nations when Eriksen was drafted in to play against NAC Breda, but he still recalls the buzz about the youngster.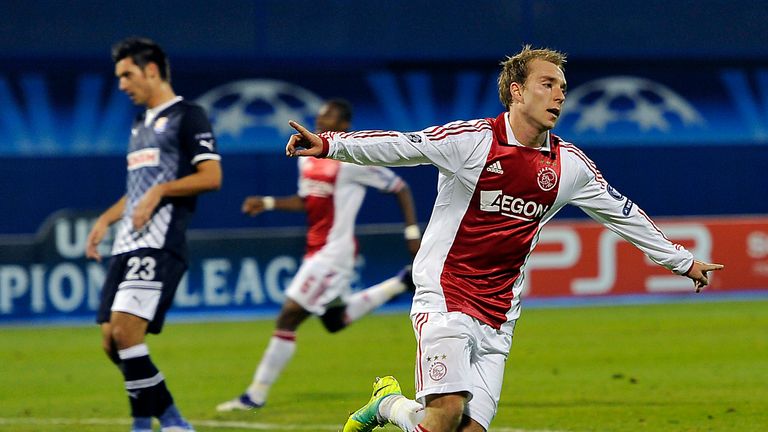 "Everyone was talking about this young Danish guy," he says. "They knew he had these qualities - the ball control, the ball movement, and the game intelligence. It was so easy for him. He didn't struggle at all and I remember that he provided an assist in that first game.
"He was a very easy-going guy, calm and a bit reserved. I don't think he has changed. He was always a cool guy and a team player, for sure. He was very humble, someone who listened a lot and always wanted to improve. Those qualities helped him to take another step."
Platform to impress in Europe
A Champions League semi-final is another step for all of them, but the three men now have a wealth of experience to call upon - thanks in part to the start they were given at Ajax. As long ago as 2010, all three played in a 2-0 win over AC Milan in the San Siro. Alderweireld even scored.
Eyong was in that team too.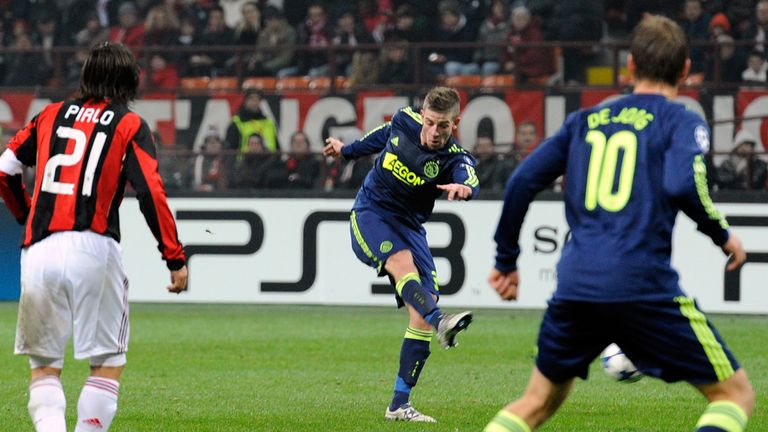 "We got to play against AC Milan and Real Madrid," he says. "These are things that give players a big boost to play at any level. It's a huge platform for players. Think about it, Toby was 19 when he first played in Europe. Christian was even younger.
"Ajax, for them, it was massive."
Prospect of an Ajax return
The prospect of going back to Ajax is one that has been raised intermittently. "I have a bond with the club," said Alderweireld earlier this season when asked about a potential return. Vertonghen had made similar noises about one day rejoining his old club too.
But it seems that Ajax will have to wait for them.
"Of course those players always say that they want to come back to Amsterdam," said Marc Overmars, Ajax's sporting director, when asked about the pair recently. "But then when I always call them you often hear that you have to wait a few years. So I think with these two players we have to be patient and see what the future holds. It is still too early now."


Perhaps they will go back as European champions.
But first they must overcome the club that set them on their path.
"It's been exciting and intriguing to watch this group of Ajax players," adds Eyong. "There is something special about them. It will be very interesting.
"Honestly though, I will be supporting Ajax. I always cheer for the younger ones because they are the future but I also want my old teammates to do well.
"And anyone who has played for Ajax, even if they play for Tottenham now, will always have Ajax in their heart."