Mauricio Pochettino has been sacked by Tottenham after five years in charge of the club.
Jose Mourinho has been appointed his replacement.
Pochettino led Spurs to top-four finishes in four of his five seasons in charge, as well as their first Champions League final in the 2018/19 campaign.
However, Tottenham have won just five matches this season and chairman Daniel Levy said a change had to be made in the "club's best interests".
Tottenham enjoyed a hugely successful European campaign last season, with dramatic wins over Manchester City and Ajax in the knockout stages earning them a place in the final, where they were beaten 2-0 by Liverpool.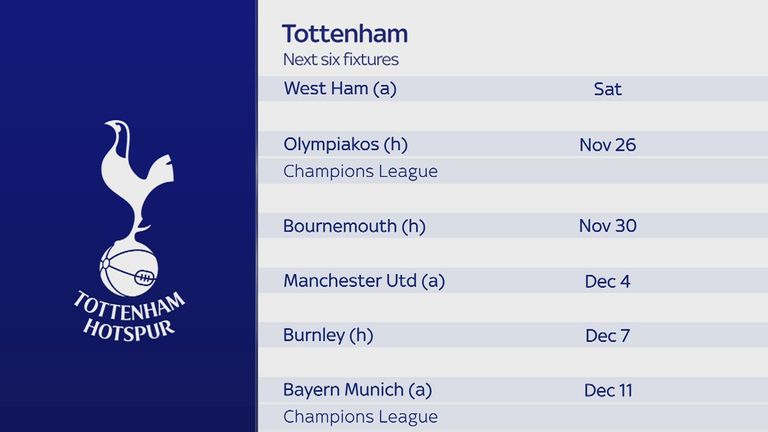 After that defeat, Pochettino warned Spurs faced a "painful" rebuild, with several senior players reaching the last year of their contracts.
But he has been forced to rely on several players whose deals expire at the end of the season after the club endured another quiet summer in the transfer market.
Their domestic form has been poor for most of 2019, and since a 3-1 win over Leicester on February 10, Spurs have won just six of their 24 Premier League matches. They are currently 14th in the table and were knocked out of the Carabao Cup by Colchester.
Pochettino's staff - Jesus Perez, Miguel D'Agostino and Antoni Jimenez - have also left the club.
Levy: Decision made in club's best interests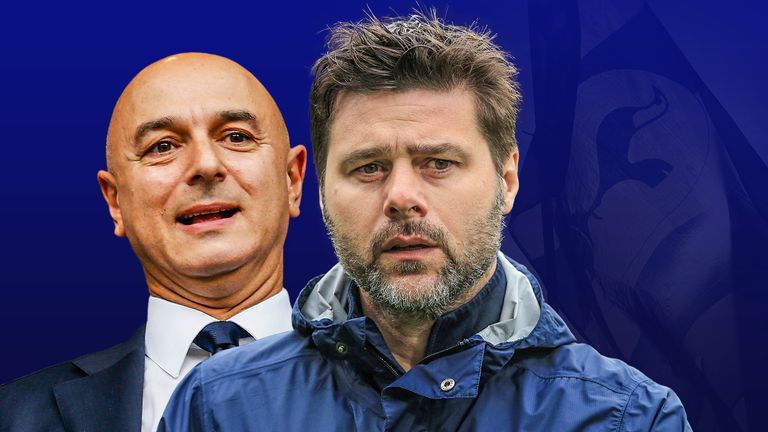 In a statement released by Tottenham on Tuesday evening, Levy said: "We were extremely reluctant to make this change and it is not a decision the board has taken lightly, nor in haste.
"Regrettably domestic results at the end of last season and beginning of this season have been extremely disappointing.
"It falls to the board to make the difficult decisions - this one made more so given the many memorable moments we have had with Mauricio and his coaching staff - but we do so in the club's best interests.
"Mauricio and his coaching staff will always be part of our history. I have the utmost admiration for the manner in which he dealt with the difficult times away from a home ground whilst we built the new stadium and for the warmth and positivity he brought to us.
"I should like to thank him and his coaching staff for all they have contributed. They will always be welcome here. We have a talented squad. We need to re-energise and look to deliver a positive season for our supporters."
Harry Redknapp: Players got Poch the sack
"When people talk about the players all loving him, if they love him that much, maybe they should have all started playing a bit better," Harry Redknapp said on Sky Sports News.
"They've got him the sack, at the end of the day. They haven't performed well enough, that's why he's lost his job. If they all loved him so much, perhaps they should have done a bit better for him.
"That's why you get the sack. They've had one Champions League final; if you look back at the run, everything went their way a little bit. They've not won a trophy in five or six years with an incredible set of players.
"People say they need a better squad; have a look at them, they have four international full-backs, internationals all over the place, England internationals, all kinds. And up front they're not short either. They're massively underachieving at the moment.
"It has come as a shock and I didn't see it happening, but they've obviously pushed the panic button.
"I'll be honest, it's been relegation form over the last 24 or 25 games. Tottenham not making the Champions League this year would be a disaster in Levy's eyes and Joe Lewis' eyes, with the money they've spent on the stadium and the training ground. They're not fools. They're very clever men, and have probably looked at it and thought: 'The way we're going, we're not going to make the top four.'"
Pochettino sacked: The reaction
Sky Sports pundit Jamie Carragher: "It's a massive shock. The job he has done is miraculous, it deserved to see him at least see out the season. I'm shocked it is a sacking. When l heard the news, l thought it may have been 'mutual agreement'. But the fact that he has been sacked... it's strange and a bit out of order really considering the job he has done."
Sky Sports pundit Jamie Redknapp: "I was surprised. They've had an awful start to the season, and towards the back end of last season. Pochettino has to take responsibility, he's the manager. I was at Tottenham for a number of years, and Daniel Levy is not an easy man to work for, whether you're a player or a manager. That goes without saying, and Pochettino has probably done well to last five years. But Daniel Levy is probably thinking: 'I've given this guy five years, and what have we won?' The answer to that is nothing. There are other managers, you would think, in that period, who would have won trophies with that squad. They've got a team full of internationals, from top to bottom."
Sky Sports News' Kaveh Solhekol: "Pochettino felt that he took this group of players as far as he could take them. He managed to get incredible results out of them, baring in mind he was not able to spend any money for two transfer windows. He worked miracles to get Spurs as high up in the table as he did, but during the summer he wanted to refresh the squad. I think Pochettino wanted more, to show more ambition, and when that didn't happen, the writing was on the wall."
Sky Sports' Nick Wright...
'Pochettino is entitled to feel aggrieved that, only a few months after steering Spurs to a Champions League final, he has not been granted more time to turn things around. That, after all, is exactly what he did when he took the job in the first place.
'The list of players he has improved is a long one. It includes almost every member of the current squad and - in Kyle Walker, Kieran Trippier and Mousa Dembele - a decent number of the departed too. Those players have all contributed to the club's progress over the last five years, but it's Pochettino who made it all possible.'
Read more of our analysis on the impact Pochettino made at Tottenham