Tottenham's Gareth Bale adds Football Writers' flagship award to two PFA prizes
Tottenham's Gareth Bale has been named Footballer of the Year by the Football Writers' Association.
Last Updated: 03/05/13 6:31am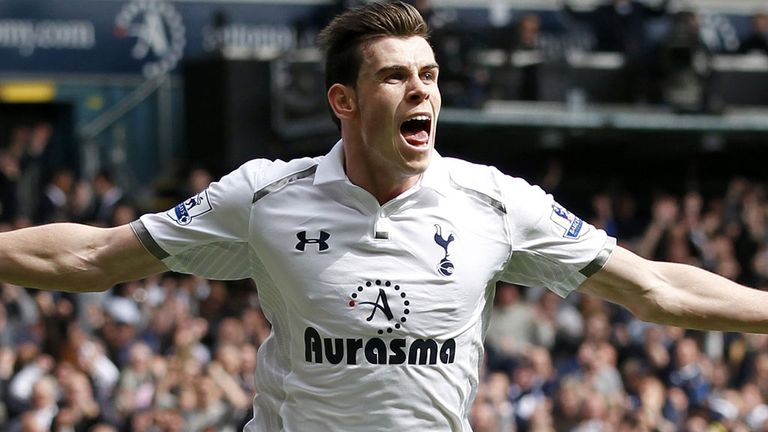 The award is Bale's third honour in a week following his coronation as the Professional Footballers' Association's Player and Young Player of the Year.
The Wales international, whose 19 Premier League goals have played a major role in maintaining Spurs' top-four challenge, becomes the 14th man to win the major journalists' and players' accolades in the same season.
FWA chairman Andy Dunn told Sky Sports News 96% of the vote was split between Bale and Manchester United's Robin van Persie, with the winner receiving 53% and the runner-up 43%.
Chelsea's Juan Mata was a distant third while Liverpool striker Luis Suarez, currently serving a ban for biting an opponent, received just two votes despite scoring 30 goals in all competitions.
Dunn said that small number could be partly explained by voting parameters which ask members to take into account a player's behaviour in addition to his performances.
He said: "Stanley Matthews was the first winner of the award in 1947/8 and, in the citation it reads 'the player who by precept and by example has been the Footballer of the Year'.
"It's not the be-all-and-end-all, but it does take into account the players' behaviour throughout the season."
And accusations of diving earlier in the season, he said, had probably cost Bale victory by a greater margin.
"I think it would have been more conclusive had he not been booked for simulation on occasions, but I think there's a feeling among the writers that he has addressed that issue.
"When something needs addressing, do players go away and address it? Clearly, in Suarez's case he didn't. In Bale's case, a lot of the writers think he has taken steps to confront it."
A huge honour
Bale becomes Spurs' first winner of the FWA award since David Ginola in 1999, and the first Wales international to be selected for English football's oldest individual trophy since Everton's Neville Southall in 1985.
The Tottenham star said: "It is a huge honour to receive the Footballer of the Year award from the Football Writers' Association.
"It means a lot to win this award when you consider the number of players that have been outstanding for their clubs in the Barclays Premier League this season.
"I have been very fortunate to be playing in such a fantastic team and I owe a lot to my team-mates and, obviously, the manager who has shown such faith in me.
"This award has been won in the past by some of the greatest names in football and I consider it a privilege that the FWA has selected me to be named alongside them."