Transfer news: Real Madrid bid £85m for Tottenham's Gareth Bale
Real Madrid have made a world record bid of over £85m to Tottenham for Gareth Bale, Sky Sports understands.
Last Updated: 31/07/13 2:29pm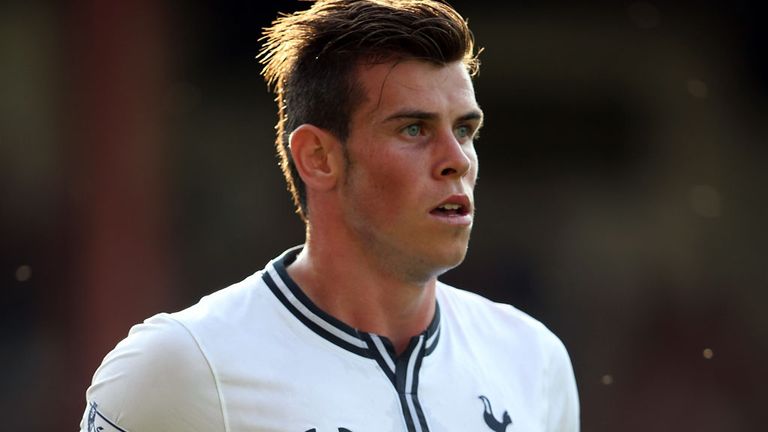 Real's offer has been on the table for over a week, and Bale is becoming more and more frustrated with the situation.
The bid does not include any Real Madrid players moving to Spurs as part of a package.
Sky Sports understands Spurs chairman Daniel Levy is currently in Miami and that the club's stance - that the Wales international is not for sale - has not changed.
Bale has so far kept his feelings to himself, making no public declaration about what he wants to happen next.
Tottenham and Bale are back from the Asia Trophy and will resume training on Wednesday.
Speaking on the Sky Sports Football Season Preview show, former Spurs player and Sky pundit Jamie Redknapp said he thinks it is inevitable Bale will now move.
"How can he turn it down?" Redknapp said. "I also believe Spurs are a selling club - go back to Michael Carrick, Luka Modric, Dimitar Berbatov - okay, they also sell at the right price.
"I think there'll be a conversation between Daniel Levy and (owner) Joe Louis and I can only see one outcome, that he'll be a Real Madrid player."
Earlier on Tuesday, Real Madrid captain Iker Casillas backed his club's chase for Bale.
"We are talking about one of the top three or four best players in Europe," said Casillas, "and it's normal that his name is being discussed because he has all the qualities a footballer needs."
Madrid-based newspaper Marca, which is effectively a mouthpiece for Real, claimed on its front page on Tuesday that Spurs chairman Daniel Levy is demanding a fee of £126m, which would shatter the world-record fee for a footballer - the £80m Real spent on Cristiano Ronaldo in 2009.
Spain-based journalist Graham Hunter says the La Liga side are prepared to offer a huge sum to tempt the forward to Madrid.
"The briefing between Real and the Madrid media is that verbally - and I don't think there's a written offer - Spurs are aware that Real are willing to go to 93m euros for Gareth Bale," said Hunter.
Online bookmaker Sky Bet have now gone odds-on that Bale leaves Tottenham in the current transfer window for the first time this summer, with Madrid the clear favourites at 4/7 to land his signature.
Immoral
The president of the Spanish Football League (LFP), meanwhile, has dismissed suggestions that Real Madrid's pursuit of Bale is immoral.
A potential world-record bid has attracted criticism in some circles in light of the economic crisis still ravaging Spain, but LFP president Javier Tebas insists he has no problem with Real getting their chequebook out.
He said: "It is immoral to pay for something when you cannot afford it. I think it's more immoral for a club to spend one million euros which they do not have.
"100million euros is a huge amount of money to spend on a player but if Madrid can afford that then it's not a question of morality, but of whether it's a risky move or not."
Tebas declared that he looks favourably upon the move for Bale, as the Welshman's arrival would boost the profile of Spanish football.
"I don't know much about him, but if Bale is a good player, than I'd rather he was over here (in La Liga) than in the Premier League," he said.
"It's not a question of how much he costs, you have to look at how much money he will generate, and if the LFP has all the stars, it will allow us to maintain high television revenue. All the money the arrival of this type of player generates translates into more revenue."
Tebas also responded to questions from journalists about the increasing number of high-profile players from outside of the top two clubs who have left La Liga this summer, such as Radamel Falcao, Alvaro Negredo, Jesus Navas and Iago Aspas, with Roberto Soldado set to follow the trend, by leaving Valencia for Tottenham.
"Seeing players leave is a double-edged sword,'' he said.
"Clubs need to decrease their debts, and it's a shame that players have to leave, but it is good news because this is the path we have chosen.
"Spanish football clubs pay 120million euros in interest each season, and just think about the players we could have had with that money and how much we could have paid them.
"If we can reduce our debts, in four or five seasons' time we will have more money to invest in our football. We are on the right track, and the clubs know that."