Andre Villas-Boas says Tottenham's Gareth Bale may move to Real Madrid "very soon"
Gareth Bale's move to Real Madrid could happen "very soon" - but Spurs may fine him for failing to turn up to training.
Last Updated: 28/08/13 8:09pm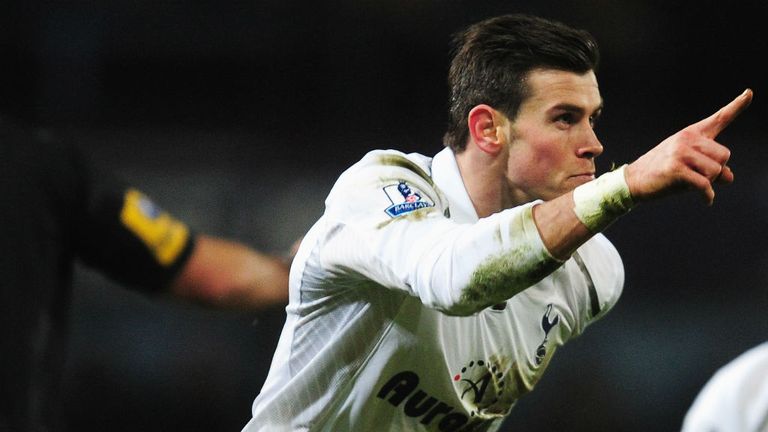 Villas-Boas said work is ongoing on the contracts, and added: "I'm not sure how long it is going to take. It can happen very, very soon, it could go to the last day (of the transfer window), it could happen in the next two days."
Bale is, according to Sky sources, "furious" with Spurs for delaying his move to Real and failed to report for training on Tuesday and Wednesday.
And whilst Villas-Boas is sympathetic about the delay, he says Bale's behaviour is "not correct" and is considering fining him.
Villas-Boas said: "He is involved in a big transfer move to Real Madrid and in the end if it happens, we wish him all the best - what he left here was great memories. But the fact that he hasn't turned up is not the correct behaviour...
"That is the position they (Bale and his representatives) chose to take and it's up to the club to decide if it's a fineable offence."
According to Sky Sports presenter Jim White, Bale was told last week that he could "say his goodbyes" to the rest of the Spurs squad and did that before flying to Spain for a short break.
Asked if he personally felt let down by Bale, Villas-Boas said: "No - I think he obviously had a great season. What is happening is a dream move for him.
"In the end there will be a three-way agreement. Tottenham will accept the biggest deal in world football. In the end I think, if Tottenham accepts it and everything goes all right it will be the end of the story."
Spurs were reportedly furious with Real for erecting a stage in their stadium at which they were hoping to unveil Bale on Tuesday.
And the Madrid giants had been selling shirts with Bale's name on the back - further antagonising Spurs - though they have now stopped doing that.
Villas-Boas was unfazed: "They can do whatever they want. Whether it was responsible or irresponsible, I really don't care."
He confirmed however that he plans to make signings of his own before Monday's deadline.
He has been linked with Roma's Erik Lamela and Christian Eriksen of Ajax.
"I've told you we will continue strengthening the squad. We are looking at different positions to make stronger. Not only those players but other players as well and I think in the next couple of days you will see further new arrivals," he said.
One man Villas-Boas does not expect to sign is Juan Mata, who is being linked with a move away from Chelsea.
"First, Chelsea wouldn't sell to Tottenham in any way or form, as they think that we are title contenders," said Villas-Boas.
"Mata is a great, great player - player of the season last season - very, very important player for Chelsea. They're just not going to strengthen another team that, in their opinion, are rivals for the title."
Sky Sports' Spanish football expert Guillem Balague also insists it is only a matter of time before Real overcome the tough negotiating of Tottenham, and the concerns of Cristiano Ronaldo, to sign Bale.
Balague told this week's Revista that Real believed they had agreed a deal to sign the Tottenham forward for 100m euros last Wednesday only for Levy to "move the goalposts" and Real to respond by submitting lower offer from the player, believed to be around 90m euros - potentially due to concerns from Ronaldo.
"Real Madrid on Wednesday that they had a deal but it has not been confirmed and it won't be confirmed until Daniel Levy decides so," Balague told Revista. "I think he is quickly becoming, if he hasn't already, the toughest negotiator in world football."
Balague continued: "On Wednesday night some of us were briefed that the deal was done. There was a fee agreed and it was about to happen. Some people mentioned Thursday or Friday as a possibility, then Monday or Tuesday.
"But Real Madrid were so clear that they had finally got an agreement that they put a stage up to received Gareth Bale and with it being a massive transfer fee they wanted to do it the way they normally do it with a lot of press and media and fans.
"The whole thing was geared up for the deal to come through. The fee had been agreed and it was just a matter of signing."
However, Balague says Spurs then "put the brakes on" and Madrid responded by tabling a lower offer of 90m euros due to the concerns of Ronaldo, who is currently negotiating a new contract with the club and wants to remain as the most expensive player in history.
"Real Madrid have changed the fee they have put in for Bale and Cristiano Ronaldo is the reason for it," Balague said. "Perez was going to pay 100m euros, which is more than the 96m euros they paid for Ronaldo, so Ronaldo and his people asked, 'what is this 100m'?
"So they (Real Madrid) say to Spurs, 'instead of 100m in six payments it is now going to 90m euros'. Cristiano Ronaldo still feels he has to be treated as the number one person and Real Madrid, so 96m euros should never be overcome. That is going to be interesting when it all happens and Gareth Bale goes to Real Madrid.
"Florentino Perez on one hand has this issue of having to deal with the happiness of Ronaldo and then with the issue of Daniel Levy just changing the goalposts a little bit. But in any case it just looks like a matter of time."