Former Tottenham chairman Lord Sugar says it is painful for him to admit that Arsenal are dark horses to win the Premier League this season.
Arsenal qualified for the Champions League for the 17th successive season last term and also ended their nine-year trophy drought after beating Hull City in the FA Cup final in May.
Lord Sugar believes Arsenal boss Arsene Wenger has assembled a squad capable of challenging for the title following the acquisitions of Calum Chambers, Mathieu Debuchy, David Ospina and Alexis Sanchez.
It hurts me to say this but I think Arsenal could be the dark horse here.
"It hurts me to say this but I think Arsenal could be the dark horse here," Lord Sugar told Sky Sports News HQ.
"He (Wenger) lost (Theo) Walcott to serious injury, he lost (Aaron) Ramsey and he still managed to end up in the position he did.
"With a fit squad and the addition of the new chap that he's brought in (Sanchez) I think they are the dark horse."
Live Ford Saturday Night Football


Tottenham chairman Daniel Levy has faced criticism from supporters for sanctioning the purchase of seven new players following the world record £85m sale of Gareth Bale last summer.
But Lord Sugar refused to blame Levy, hinting the Spurs chairman was let down by former manager Andre Villas-Boas and current sporting director Franco Baldini.  
"They went out like a kid in a sweet shop and they bought anything in sight (after selling Gareth Bale)," he said. "That told me the management beneath him were delinquent in some way.
"It does not make sense that you can go out and pick seven players like that. What does that say about the rest of the squad? It doesn't make sense and that's my only criticism.
"If someone told me,  when I bought Spurs that one day this club will spend £100million on a few players I would have said the lunatic asylum is over there mate you better check yourself in.
"You can't blame Daniel because he was obviously under pressure when he had the untenable situation of having to sell Bale - and he did a very good job in negotiating a world record.
"Then he promised the money to the manager. I mean what more can you do?"
More games that matter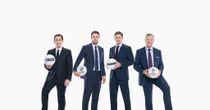 Click here to see Sky Sports' unrivalled schedule of live Premier League fixtures
Lord Sugar also expressed his concern over the number of foreigners playing in the Premier League and the effect that is having on the national team.
"The old system of the maximum of four foreign players in your side was great because what it did was that it allowed the progress of English players," he added. "What it meant was that it allowed us to send a better team to the World Cup or European Championships.
"If you are restricted to four foreign players then you have no alternative but to play English players from the local market.
"I am a great believer in the four foreign player rule to be perfectly frank. Of course we can't do it because it breaches European employment rules, but if I could, I'd bring it back."