With Christian Benteke showing signs he's returning to form and Spurs' 'lax' defending, Aston Villa can end their five-game wait for a goal on Super Sunday, says Jamie Redknapp...
Aston Villa may be bottom of the Premier League goal-scoring charts but they'll get opportunities to improve their tally when they host Tottenham on Super Sunday.
I saw Villa at QPR and I'm not unduly worried about them only finding the net four times so far this term. The goals will come and that's because Christian Benteke is on his way back.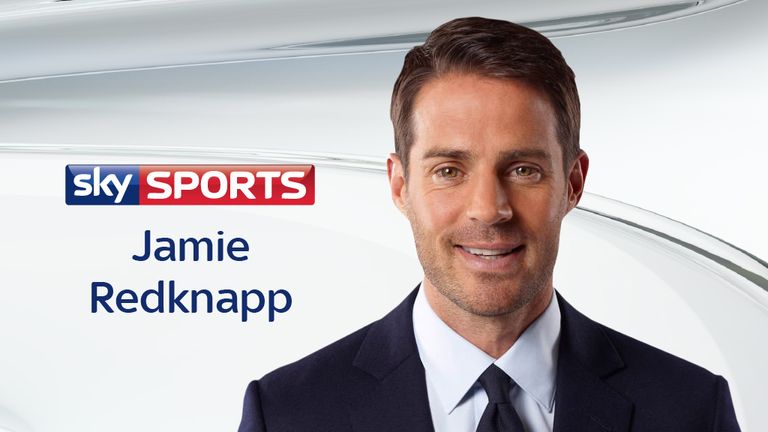 I could sense on Monday Night Football, with his touch and his movement, Benteke was getting back to the levels he was at last year. If that's the case, goals will follow.
He's had an horrendous injury and to tear your Achilles, for someone like him, who relies on his power and spring, is a bad one to pick up. But I could sense on Monday Night Football, with his touch and his movement, that he was getting back to the levels he was at last year. If that's the case, goals will follow.
Benteke – who has scored 29 in the past two seasons - needs support, though, and Villa could really do with some goals from other areas to take the pressure off the Belgian.
Their midfield three at Loftus Road had nine goals in 164 games between them and they need to chip in more. Similarly, Gabriel Agbonlahor doesn't get enough and Andreas Weimann isn't prolific.
Perhaps they could bring Charles N'Zogbia in to a number ten role. He's got a good left foot and has shown he can find the net.
But that's definitely a problem area for them. Finding someone who can score 8-10 goals a season and slide nice little balls through for the strikers isn't easy – but it's a player Villa need.
Villa's other problem is that, as well as not scoring, they're also conceding cheap goals. When you're struggling like they are – and the same goes for QPR and Burnley – you have to battle and not give anything easy away. At the moment Villa are getting beaten without a whimper and that's what will upset Paul Lambert and Roy Keane the most.
Opportunities
They're playing against a Tottenham side who give you loads of opportunities this weekend, though - and that's another reason why we might see Villa's five-game wait for a goal - and point - come to an end.
At lot has been made of Spurs' defeat to Newcastle, particularly the equaliser, which saw Sammy Ameobi catch the Tottenham defence sleeping at the start of the second half, but it didn't surprise me at all.
Tottenham always concede cheap goals and it's not going to change. I've said before I think Younes Kaboul is a defender who gives you a chance and, as we saw against Newcastle and Liverpool last season, Spurs so often come out lax and lacking intensity.
You really don't know what Tottenham team are going to turn up each week and it seems Mauricio Pochettino is finding it more difficult than he expected at Spurs. I like him as a manager but he'll need time to get his own players in because they're a country mile away from where they need to be.
Spurs need new players because you can't turn that personnel into a high-energy, pressing team like Pochettino had at Southampton.
Chance


In Harry Kane the Spurs fans do have someone to get excited about, though – and it's time he got his shot in the Premier League.
The England U21 international has netted eight times this season in the Capital One Cup and Europa League and has done really well. All young players need opportunities and with him scoring goals and looking confident now is a great time to hand him a Premier League chance.
His goal in midweek against Brighton showed he can be a poacher but he's also got a great shot on him, so what have Spurs got to lose? It's not like they have a brilliant centre forward who is scoring loads of goals for them - Roberto Soldado and Emmanuel Adebayor have just two in the league between them so far.
Spurs are crying out for Kane and I'd be amazed if he doesn't start against Villa.
Perhaps he could make the difference on Sunday, but I'm going for a 1-1 draw. There's a little bit of discontentment with the manager at Villa Park and the hosts need a result. I reckon they'll get it but, as I said, who knows which Tottenham team will turn up. 
Watch Aston Villa v Tottenham at 3.30pm, Sunday, Sky Sports 1 HD.