Blackburn fans call for talks
A Blackburn Rovers supporters' group has called on the club's owners Venky's to begin dialogue with the fans.
Last Updated: 01/10/12 4:26pm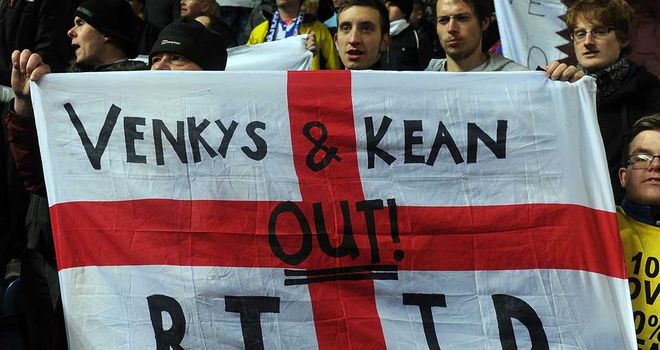 Kean left on Friday saying his situation had become "untenable", and The Rovers Trust, who are raising the funds needed to buy a stake in the club, now want to have a say in the club's future.
Wayne Wild, co-chairman of Rovers Trust, said: "A lack of executive leadership has put the club in its worst position for 20 years.
"The need to change the manager is a perfect time for the owners to begin to build bridges with supporters.
"A new manager may offer a brief moment of optimism, but the owners really do need to address matters off the pitch, where a lack of leadership and communication has left the commercial operation of Ewood Park in an appalling mess.
"Now is an excellent time for the owners, either directly or through their appointed representatives, to enter into dialogue with Rovers Trust and begin the process whereby Rovers supporters can take a direct and positive stake in the ownership of their club.
"This is the only way the owners can truly win back the Rovers fans and the community in Blackburn.
"If they want a thriving, successful club, with the whole town behind the team, then they must accept that Rovers supporters want a say in the running of the club."