Aston Villa goalkeeper Brad Guzan signs new four-year deal
Aston Villa have confirmed goalkeeper Brad Guzan has signed a new four-year contract with the club.
Last Updated: 07/07/13 7:18am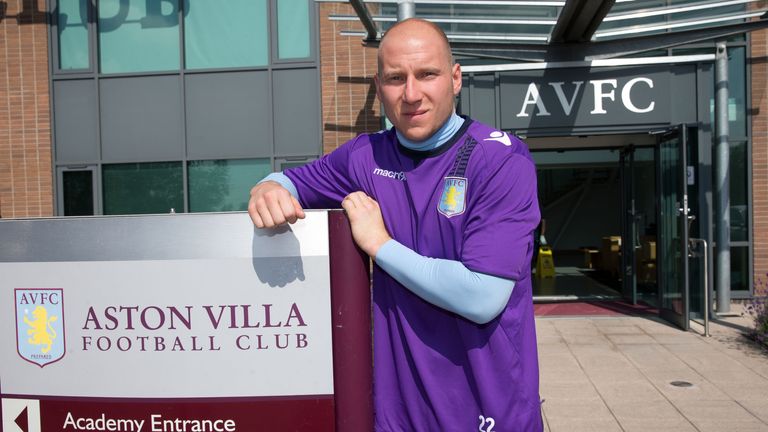 The American, 28, arrived at Villa Park in 2008 from Chivas and has recently established himself as the Villans' first-choice - earning an extension to his deal.
Guzan told the club's official website: "This is just the start now, the start of hard work. We have to build on last year and go forward and that is very much the collective mindset at the club.
"We grew together as a team last season and now it's time to kick on again. We'll welcome the new guys with open arms and allow them to join this special family that we've started to create from last season. It's an exciting time for the club for sure.
"When you bring in new players you have fresh bodies, fresh blood, fresh excitement and you need that to prevent things from becoming stale and guys getting complacent. You want competition for places, you want guys pushing each other and helping each other. When you bring in new faces it lifts everybody.
"For me, it's an honour and a privilege to play for Aston Villa Football Club and to commit my future long-term. I'm overjoyed by it.
"To have this opportunity to commit my future, with the plans and the future being what they are going forward, it's tremendously exciting and I know that's not just for me but for everybody, including the fans.
"This is what Aston Villa Football Club is all about, we're a very connected and very committed group and we want to strive to be the best we can possibly be going forward. What we're building here as a club, what the manager is building could be very special.
"From a personal standpoint, especially after last season playing consistently through virtually the entire season, hopefully now I'm coming in to some good years ahead and to be able to do that at Villa is exciting. It's going to be good times ahead.
"It's always nice when you're wanted by a club. I've had some good years here at Aston Villa and to be able to commit my future just puts a smile on my face. I'm looking forward to the future and to the challenge ahead."
Villa manager Paul Lambert added: "Brad has been exceptional for the club, really fantastic on and off the pitch.
"He's always bubbly around the place and a really solid character. He's a good guy as well which is really important. Overall, he's a credit to the club."