Aston Villa confirm Christian Benteke has handed in a transfer request
Aston Villa have confirmed Belgium international striker Christian Benteke has handed in a transfer request.
Last Updated: 10/07/13 9:44pm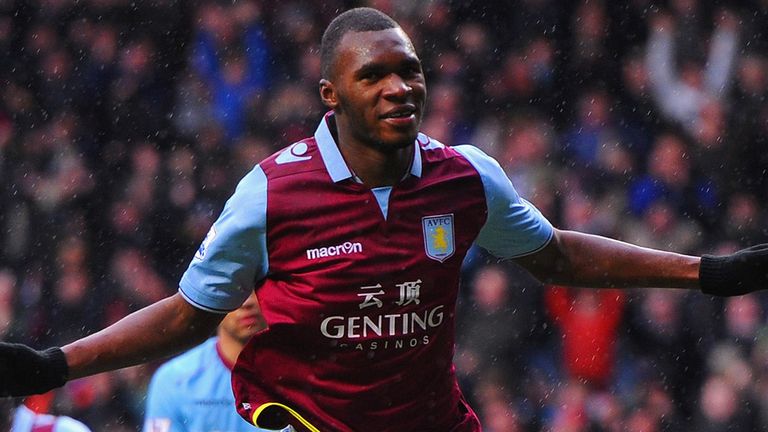 Benteke was a revelation for Villa last season after his £7million arrival from Genk and he scored 19 goals in the Premier League.
The Belgium international was a key figure in helping Villa to retain their top-flight status and he has subsequently been linked with a summer move.
The likes of Atletico Madrid, Arsenal, Chelsea, Liverpool, Manchester City and Tottenham Hotspur are among the clubs who are reported to have shown an interest in the 22-year-old.
Villa have now confirmed that Benteke has asked to leave the club, but have rejected claims the powerful forward refused to travel on the pre-season trip to Germany.
A club statement read: "In response to reports that Christian Benteke has not travelled to Germany with the club and has made a transfer request, we can confirm that both are accurate.
"For clarity's sake, however, he had already been given extra time off until July 18 and was reminded that there are three years remaining on his contract.
"We consider him to be a Villa player and expect that he will be with us for the 2013-14 season.
"Having received his transfer request, we have also informed him that should we receive an offer within an appropriate timeframe during pre-season which meets our valuation we would act upon it. But he will remain a Villa player should this not happen."
Villa manager Paul Lambert has expressed his disappointment at Benteke's request, but remains hopeful that the player will stay at the club.
Lambert said: "While we're hugely disappointed that Christian has put in a transfer request, it's important that people appreciate we are trying to build something strong and vibrant here at the club, something this club demands and stands for, and we want Christian to be part of that."
Speaking only last month, Lambert suggested that Benteke's future would be better served by remaining with Villa, where he is more likely to feature on a regular basis.
The Scot told Talksport: "If you take that gamble to move to one of these huge clubs, then you might not play as many games.
"Footballers want to play. If they're hungry enough, then that's half the battle. The pressure on a young player moving is high.
"He's still a young lad learning the game and developing into a man."
Lambert's comments came after Benteke's agent Eris Kismet was forced to deny reports at the end of last season that the player would try to force a move away from Villa.
Kismet told Sky Sports: "Christian and I are surprised and disgusted by a story in the Sun newspaper claiming Benteke can do what he wants.
"He has been misquoted. The true line is that Christian does not want to make a war with Aston Villa.
"If there is interest, which is normal after the season he has had, no way will problems be made by Christian and myself. That is what he said in the interview!
"He's more than happy to stay if he has to stay. But we all know he had a good season and it's normal that maybe other teams are more interested in him, and he might be interested to play European football which is his right.
"If there is a team, a bigger team playing European football next season, that shows interest to Villa concerning Christian, I would be lying if I said Christian would ignore that.
"But at the same time Villa have the right to say whatever is going to happen with Christian next year, and Christian will have his word also because it's his career.
"It's no use with all respect to go to Southampton or Norwich. If he can improve himself in a footballistic way, okay, why not? But it's up to Aston Villa and that supposed team to get an agreement."