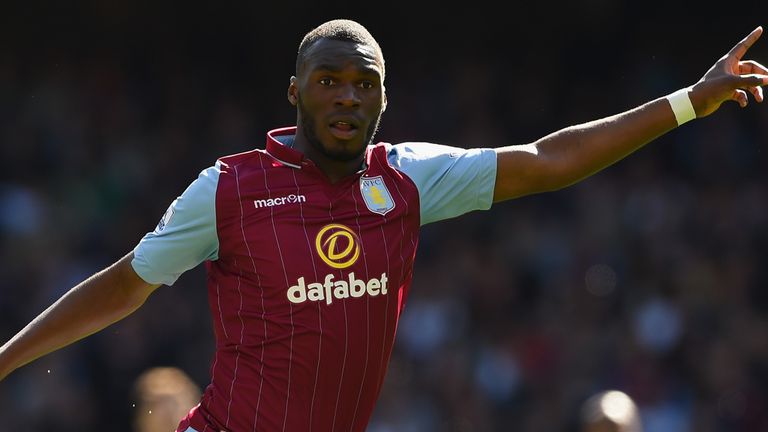 Tim Sherwood expects Christian Benteke to remain with Aston Villa amid reported interested in the striker from Liverpool.
With Raheem Sterling's £49m transfer to Manchester City complete, Liverpool have been widely expected to try to wrap up a deal for Benteke, who is 1/4 with Sky Bet to make the move.
But Sherwood is not yet preparing for life at Villa Park without the Belgium international, indicating the club would not be prepared to do business with any side for anything less than the buy-out clause in Benteke's contract.
"I think he stays," Sherwood told Sky Sports News HQ when asked about Benteke's future
"I think Liverpool – I looked the other day – have six or seven strikers at the club. Now I'm not sure how many they actually need. We know Christian is a very good player and we want to keep hold of him.
"If someone matches that buy-out clause there is nothing we can do about it but until that happens he is an Aston Villa player and we are all very pleased about that."
If Benteke remains at Villa Park he can expect to line up alongside club captain Fabian Delph who raised a few eyebrows when he turned down a £8m move to Manchester City last week.
Sherwood is thrilled Delph resisted a move to The Etihad, insisting the midfielder's decision to stay at Aston Villa was entirely his own.
"I knew there was interest from Manchester City and few other clubs who had shown a lot of interest in Fabian as I expected for such a small fee on the buyout clause," Sherwood said. "But he never ever indicated to me that he wanted to leave.
"We could do nothing about it. Aston Villa Football Club could do nothing about it, it was Fabian Delph's decision to stay.
"Obviously we can try and sway his choice by telling him the pros and cons. I told him what we are trying to build here and he obviously liked the sound of it. It's up to us to strengthen now and put some real quality in and around Fabian Delph and others."
Sherwood also dismissed rumours that Delph's move to Manchester City fell through due to a problem with the 25-year-old's knees.
"If he's got bad knees then I want them! There's nothing wrong with him," Sherwood said.
"He covers more ground than any player we have got and more ground than any other player in the Premier League. He certainly did not look like he had bad knees last season."