Newcastle boss Rafa Benitez rejects claims he is creating negative vibe
Last Updated: 22/08/17 11:31pm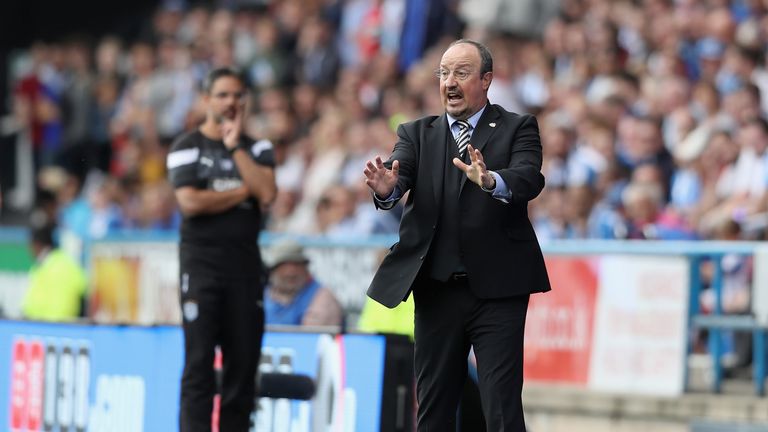 Newcastle manager Rafael Benitez has rejected claims he is fuelling the negativity surrounding the club.
Benitez has made no secret of his frustration at the club's lack of progress in the transfer market this summer, while back-to-back Premier League defeats against Tottenham and Huddersfield have added to the gloom hanging over St James' Park.
Sky Sports football expert Jamie Carragher - who played under Benitez at Liverpool - and Joey Barton have suggested the Spaniard himself is responsible for at least some of that, but Benitez remains convinced a return to winning ways would solve many of the current issues.
The visit of Nottingham Forest to Tyneside for a Carabao Cup second round tie on Wednesday night provides Newcastle with the opportunity to record just such a confidence-boosting victory.
"If we win, I will be happy. The main difference is what the players do on the pitch," said Benitez.
"It's because we didn't win, that's it. If you win, everyone is happy. If you lose, everyone is not happy.
"When you lose, you have to be upset. Hopefully we can change that tomorrow [Wednesday]."
Asked specifically about Barton's assertion that he should stop moaning and start coaching, Benitez said: "I am concentrating on my job."
Regardless of whether he manages to add to his squad before the transfer window closes, the former Liverpool and Real Madrid boss believes he will be in a stronger position at the end of the month than he is now.
"September 1 will change everything, simple. If you have your team, your squad, it will be easier for me to get a message across. It will be closed and okay, fine, we have to go," he added.
Asked if he is confident that he can keep the club in the top flight, Benitez replied: "Yes. It is something we have done well for years and working hard, we have the feeling that we will improve."