Mikel Merino is shining for Newcastle this season, but how did one of Spain's brightest young talents end up at St James' Park for just £7m? Nick Wright tries to find out ahead of their Monday Night Football meeting with Burnley.
The season was only a few weeks old when Newcastle fans began joking that Mikel Merino was too good for them. The Spaniard arrived at St James' Park having failed to make an impact at Borussia Dortmund, but there have been no such problems in the north east. With his intelligence and industry in midfield, Merino has been the outstanding player in their bright start.


The accepted wisdom is that Newcastle were wise to exercise their option to buy him so swiftly. The 21-year-old has been rotated to the bench since making the loan move permanent earlier this month, but he is unlikely to stay there. His late winner against Crystal Palace last weekend underlined his importance to the side. In an age of inflated transfer fees, he already looks like a bargain.
Merino has made as many appearances in three months at Newcastle as he did in the whole of his solitary season at Dortmund, but to those who followed him at Osasuna - the boyhood club in northern Spain which his father, Angél, also played for - it was only ever a matter of time until he began to show his true potential on the big stage.
"I knew him from their youth teams," says Santi Zuza, a Spanish football journalist who has covered Osasuna for local newspaper Diario de Navarra since 2002. "Normally when a player jumps a few age groups to the first team, he needs some time to adapt. There aren't many who immediately improve their level in that situation, but that was the case with Mikel."
Merino had just turned 18 when he made his senior debut. It was the opening day of the 2014/15 campaign and Osasuna were preparing for life in Spain's second tier after their 14th consecutive season in La Liga had ended in relegation. Merino had been used in various positions at youth level since joining the club aged 10, but he went into the senior side as a central midfielder.
It was a big responsibility, and the circumstances were far from ideal. "That season was very complicated for Osasuna," says Zuza. "They had just been relegated to Segunda, the league had banned them from signing players in order to clean up their finances, and the institutional situation at the club was very delicate."
The turmoil behind the scenes was reflected on the pitch. Osasuna spent the season battling against a second consecutive relegation, eventually avoiding the drop by a single point. It was a steep learning curve for Merino, but he handled it well, making 29 appearances and impressing under three different managers.
There was international recognition at the end of it. That summer, Merino was a key figure for Spain's U19s as they won the European Championship in Greece. Alongside Dani Ceballos, Marco Asensio and Jesus Vallejo - all of whom have since moved to Real Madrid - Merino started every game. He returned to Osasuna on a high.
With Merino at the heart of the team and club legend Enrique Martin in the dugout, Osasuna fought their way back into La Liga via the play-offs. "From making his debut in August 2014, Mikel became a genuine leader of the team in less than a year," says Zuza. "The second season was when he truly exploded. Without him, Osasuna wouldn't have achieved promotion - that's for sure."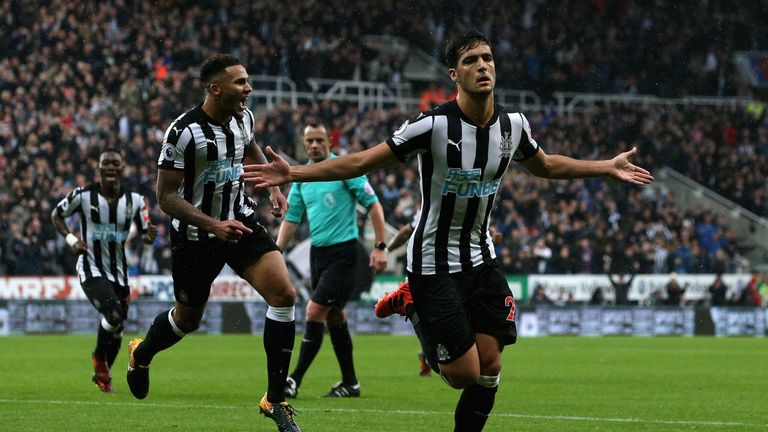 Merino scored seven goals in 38 appearances in total - six of which came in the crucial final month of the campaign. Osasuna won 20 of the 36 games he started over the course of the season compared to just one of the 10 he didn't. Merino, the rangy young midfielder from their academy, was influential at both ends of the pitch.
"Mikel has always been a player with enormous ability to organise the game, to slow things down when necessary," says Zuza. "Defensively he was very important to the team in central midfield, but he also has a great sense of when to get into the box to score goals. Let's just say he is a very complete player. He is also good in the air and in a tactical sense."
Merino's contribution to Osasuna's promotion was even more impressive considering his move to Dortmund - signed off at just €5m amidst Osasuna's financial problems - had been agreed months earlier. "He was a decisive player even though the move was finalised in the winter transfer window," says Zuza. "It didn't distract him; his football actually improved throughout the season."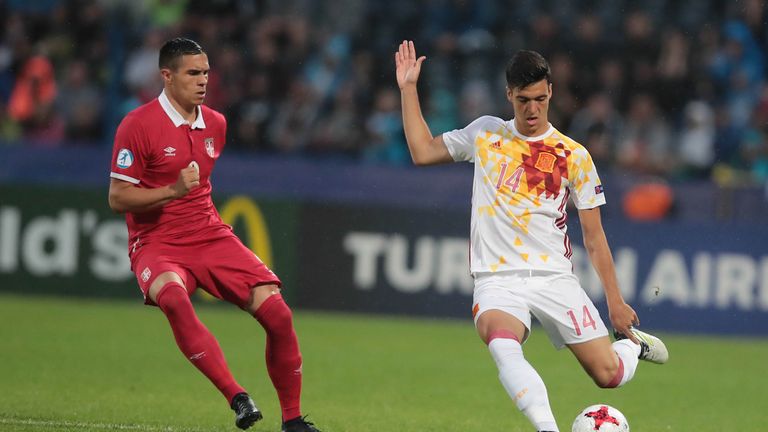 It was no great surprise that Osasuna went straight back down to the second division in the absence of their midfield talisman last season, but few expected Merino to find himself so marginalised at Dortmund. From Ousmane Dembele to Christian Pulisic, the Bundesliga side have an excellent record for developing young talent. Merino, with maturity to match his ability, seemed a logical fit.
"Dortmund are known for signing young and talented players and Merino's background in Spain and with Spain's U21s was promising," says Jurgen Koers, a reporter for the Ruhr Nachrichten newspaper in Dortmund. "But it was interesting that he signed very early. I am not sure if the club's hierarchy and [head coach] Thomas Tuchel had the same opinion of him."
Merino had to wait until October to make his first appearance, playing the full 90 minutes in a 1-1 draw with Hertha Berlin, but he did not feature at all for two months after that. "Tuchel was never satisfied with Merino's development and performances," says Koers. "He is a very demanding manager, and Merino wasn't too self-confident in the beginning, so they missed each other.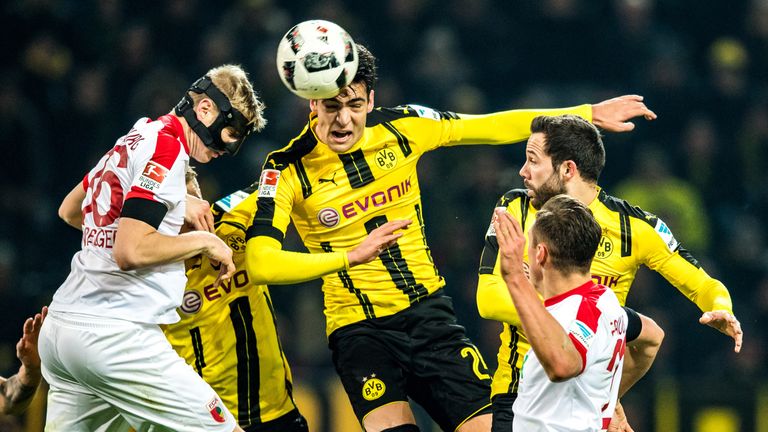 "It was difficult for him," adds Koers. "In central defensive midfield, German international Julian Weigl didn't miss games. He was Tuchel's number one. Nuri Sahin, a Dortmund hero and Turkish international, was number two. So Tuchel insisted Merino should become a central defender."
It was an awkward transition, and by the time January arrived Merino had only made three senior appearances. Osasuna were among the clubs interested in taking him on loan, but a move away was blocked. "Tuchel said he needed him, which he did not," says Koers. "So he lost another six months."
Merino now reflects on his time in Germany as an important learning experience - saying his outlook on life changed after he was caught up in the bomb attack on Dortmund's team bus in April - but there is also a clear desire to put it all behind him. "At Dortmund I didn't have the confidence of the coach," he told the Guardian last week. "Here the manager trusts me."
It has made all the difference. Just as he did at Osasuna and just as he has done with Spain's youth teams, Merino is having an impact all over the pitch for Newcastle. He is the creative brains of Rafael Benitez's team, using the ball intelligently and averaging more passes per game than anyone else, but he is also invaluable in a defensive sense.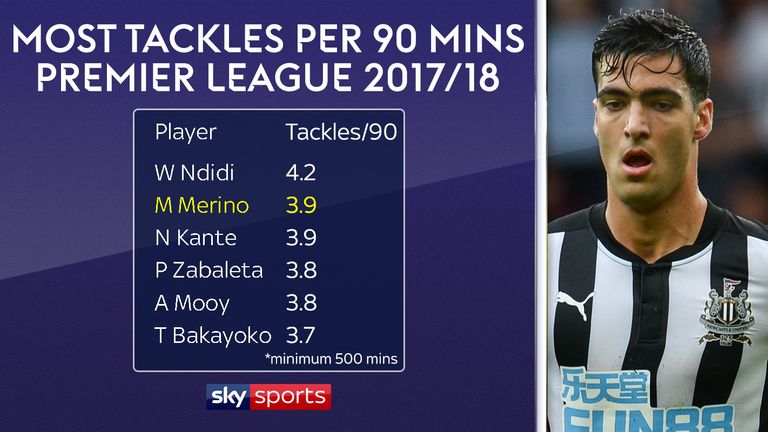 His 6ft 2ins frame has helped him adapt to the physicality of English football, and his box-to-box work rate has been impressive. Merino has covered more ground than any of his team-mates in four of the five Premier League games in which he has completed the 90 minutes. He has snapped into tackles at an even higher rate than N'Golo Kante.
It all adds up to what Zuza describes as an "excellent investment" for Newcastle. "In very little time at Osasuna, Mikel demonstrated that he is an intelligent player who learns every day," he says. "He has a lot of room to keep progressing and he's at a fantastic age for that. He is a very normal, humble person. He has kept those values and they translate on the pitch."
They are values which might help Newcastle keep hold of him, too. Fans fear it will not be long until bigger clubs come calling, but Merino has signed a long-term contract at St James' Park and he has never been one to get distracted. "I'm happy to be here for five more years," he said earlier this month. It seems Mikel Merino is exactly where he needs to be.
Watch Burnley v Newcastle live on Sky Sports Premier League HD from 7pm on Monday