Rafael Benitez revealed he has held talks with managing director Lee Charnley over possible transfers in January.
Newcastle sit 16th in the Premier League and travel to Arsenal on Saturday off the back of seven defeats from their last eight games.
While talk of a possible takeover takes centre stage at Newcastle, Benitez remains focused on strengthening his squad.
"I had a conversation with Lee yesterday," Benitez said.
"We were talking about what we want to do and players that maybe we would like to bring here, or players that maybe could go for any reason.
"We have already started this discussion and then we will see if we can progress in a few days."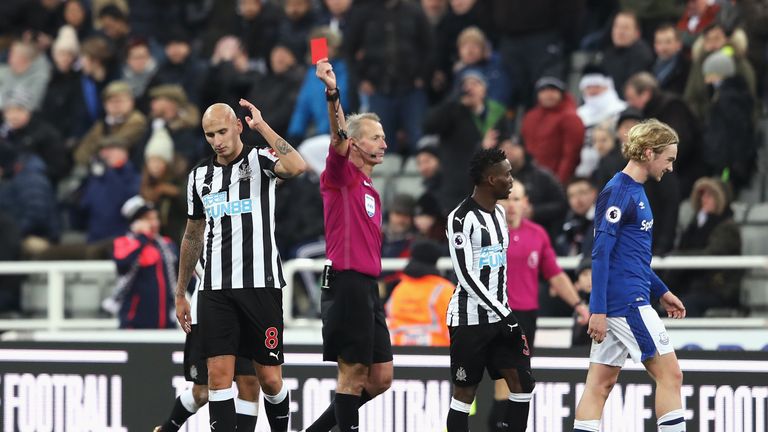 The Spaniard stressed a desire to advance with potential transfers quickly, as he looks to recover the Magpies' season.
"At this time it is just to talk about ideas," he said. "You might say 'I would like to sign this player' and someone will say '£40m' - maybe it is not realistic.
"The main thing, we had this conversation, then we have to move forward quickly. I don't know the details but at least we were talking about that.
"We have to progress and it is so obvious that we have to improve things."
Benitez would not be held on potential figures at his disposal when the transfer window reopens.
"It is more depending on the players that you can sign - you can sign one or two, or you can sign five," he said.
"It depends on how many players you like that will be available in the market. I don't have any figures now."
The 57-year-old insists the team must stay united amid the off-field distraction of current owner Mike Ashley's plans to sell the club.
Sky Sports News understands an increased offer of around £300m has been made by Amanda Staveley's PCP Capital Partners, who have been in talks with Ashley.
"I don't think it is having an effect," he said.
"The reality is that we have what we have and we are where we are and that is the reality. Everyone has to realise that is the situation.
"We have to stay united, we have to be united if we want to get through the situation and then start winning games.
"The way to move forward is to start winning but it is easy to say than to do - you have to stay calm and keep going and try to avoid mistakes we are making at the moment."