Rafael Benitez says Newcastle's future is more important than his own
Newcastle up to 13th after 2-1 win at Burnley on Monday Night Football
By Frederick Clayton
Last Updated: 27/11/18 7:57am
Rafael Benitez says the future of Newcastle United is more important than whether or not he will stay on as manager. 
The Spaniard's position at the club is uncertain after he was frustrated by spending restrictions last summer, but he remains a favourite with the fans after guiding them out of the Championship.
After the 2-1 win at Burnley on Monday Night Football, Benitez preferred to focus on the club's future and look towards Newcastle's crucial festive calendar after a difficult start to the season.
He told Sky Sports: "When we talk about my future, talk about what can happen, we are talking about the future of Newcastle United Football Club, it's not Rafa Benitez in the end.
"If we sign the players, I will not take the players home with me, so they will stay there. And if they are good players, they can be the future also. It's a question of wait, go to January and see what we can do, and now is the time to enjoy."
Asked if he wants to stay at Newcastle, Benitez added: "Yeah I am really pleased in England, pleased with the fans behind me."
Newcastle made it three wins in a row by beating the Clarets at Turf Moor, a result which lifts them into 13th place in the Premier League table and out of a claustrophobic relegation scrap.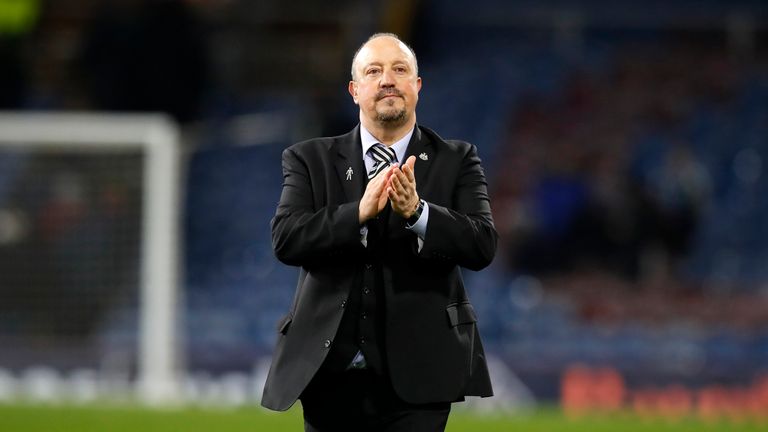 After a tough run of autumn fixtures, Newcastle now have a favourable schedule up to Christmas.
"I said before that these two months, November and December, will be crucial, because of the level of the teams," he said. "Five of the top six we played in the first eight games. It was very difficult.
"This month is crucial because we have teams that are close to us, and if we do well, we can win. If we do everything right, do everything as we are expecting, maybe we will go to January with some points advantage."