Argentine club San Lorenzo set deadline in bid to sign Newcastle's Fabricio Coloccini
Argentine club San Lorenzo have set Newcastle a deadline as they pursue their interest in signing Fabricio Coloccini.
Last Updated: 11/01/13 6:58pm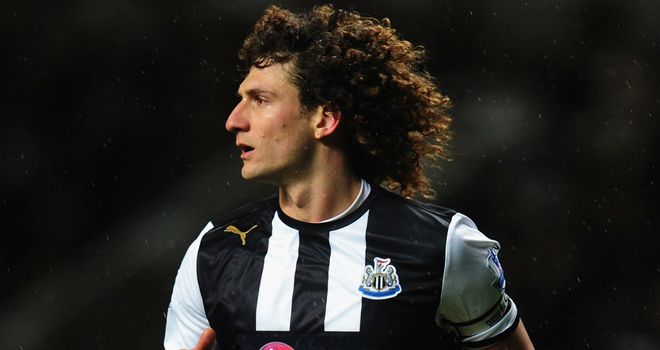 Sky Sports understands the Magpies skipper has not handed in a formal transfer request, but reports in the North East claim the 30-year-old is keen on a swift exit because of personal reasons.
This will be hugely worrying news for the fans and manager Alan Pardew with the club preparing further talks to try to persuade the player who signed from Deportivo for £10.3m in 2008 to stay at St James' Park.
Despite the defender still having three years left on his contract, San Lorenzo are keen on taking advantage of the player's circumstances, but the club president has insisted they want a quick conclusion if a deal is to be done.
"Time is running out for the signing," Matias Lammens told ESPN Radio Rivadavia.
"When you go for a class A defender, the timings are a bit different, but if in the next week we don't have a response then we will have to go for another option."
Colocccini's father Osvaldo revealed San Lorenzo's interest in the player several days ago, and they have made little secret of their intent to sign him despite admitting they cannot afford to buy him.
Lammens added: "Coloccini's arrival is very difficult. We can't go out and buy him; we have always said that we depended on the desire of the player to rescind his deal.
"We can offer him a very good contract in the case of him rescinding, but San Lorenzo have nothing left to do with regards to the negotiating."
Losing the Argentine would be a massive blow, with Newcastle losing 11 of their past 14 games in all competitions to slide towards the drop zone and go out of the FA Cup to Championship side Brighton.
Speaking about the Cup defeat, Pardew said: "It was a difficult situation. It was a really horrible day for the players and fans and more importantly the staff, but we have to lick our wounds.
"We are much stronger this week and that is much better for us."