FA amends rules on retrospective action after Callum McManaman tackle on Massadio Haidara
The FA has changed its regulations on retrospective action to banish horror tackles that go unpunished.
Last Updated: 12/07/13 4:05pm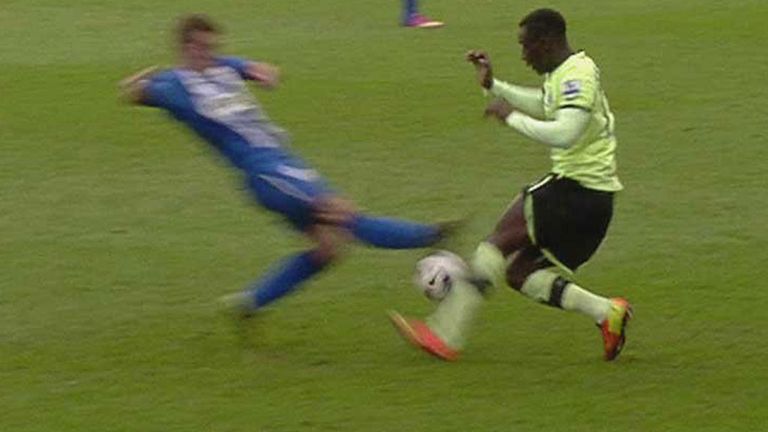 Chiefs were prompted to act after their own rules meant Wigan's Callum McManaman escaped a ban for a knee-high tackle on Massadio Haidara that saw the Newcastle defender taken off on a stretcher.
Referee Mark Halsey admitted he had missed the challenge and would have otherwise sent off McManaman but, because one of his assistants did see it, the FA claimed it was powerless to act.
Newcastle managing director Derek Llambias slammed the FA's disciplinary process as "not fit for purpose" after the incident, which prompted a pitchside fracas.
The FA announced on Friday that from this season it will be able to take retrospective action "when match officials are not in a position to fully assess a 'coming together' of players."
A statement on the governing body's website read: "The amendment follows a tackle last season involving Wigan's Callum McManaman and Newcastle United's Massadio Haidara in which the match referee's view of the incident was blocked whilst the other match officials were not in a position to judge exactly what had occurred.
"Prior to this change, which was ratified by The Football Regulatory Authority, The FA was only able to take retrospective action when none of the match officials had seen the 'coming together' or when the incident was truly exceptional, for example, in the case of Ben Thatcher's challenge on Pedro Mendes.
"This change is not intended to usurp the authority of the match officials who are, in the vast majority of cases, best-placed to deal with incidents at the time they occur. It will only be utilised in the rare circumstances outlined above."
The FA circumvented its rulebook in 2006 when Manchester City defender Thatcher was retrospectively banned for eight games for an elbow on Portsmouth's Mendes. Thatcher was only booked at the time by referee Dermot Gallagher.