Transfer news: Alan Pardew 'not confident' of keeping Yohan Cabaye at Newcastle
Newcastle boss Alan Pardew admits he cannot be certain Yohan Cabaye will still be at the club at the end of the week.
Last Updated: 27/01/14 11:57pm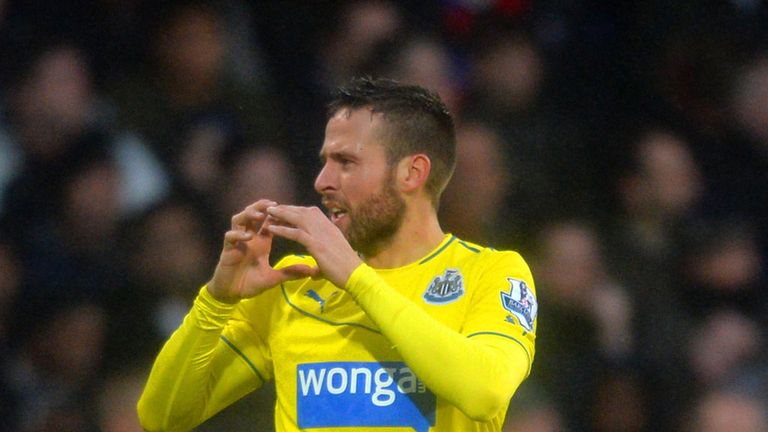 Newcastle rejected a £14m bid from Paris Saint-Germain on Sunday, and the Magpies were bracing themselves for a second approach on Monday afternoon.
With less than five days of the January transfer window still to run, Pardew admits he is desperate to avoid a repeat of 2011, when Andy Carroll was sold late on deadline day to Liverpool for £35million.
Asked if he was confident Cabaye would remain a Newcastle player after Friday's 11pm deadline, he said: "You are talking to someone who lost Andy Carroll with eight hours to go, so am I confident?
"No, I'm not confident, and I don't think any team not in a Champions League position or fighting for a Champions League position could be.
"We lost a massive part of a team that wasn't safe. We didn't have 36 points when we lost Andy Carroll, so it was a hell of a blow.
"I still maintain that was one of my best periods as a manager at this football club, getting us safe that year, so in terms of my mentality, I'm just strong about it.
"I am strong whatever happens. I am the manager and I have got to deal with it.
"I don't want him (Cabaye) to go. We have not indicated for one moment here from the owner down to any of my staff that we want him to go, not one iota."
Newcastle will reportedly not listen to anything below £20m for Cabaye, who is the team's focal point in midfield.
Pardew said: "We know we have got a club interested in Cabaye, a very wealthy club and a powerful club, and we are conscious of that.
"We are doing our best to protect Newcastle."