The Premier League weekend gave rise to that age-old argument again. One of the fiercest rivalries in football, the discussion that splits opinion like no other; zonal marking v man marking.
On Monday Night Football, Jamie Carragher got stuck into the debate with 16 years as a top flight defender behind him, playing zonal marking with Rafael Benitez at Liverpool between 2004 and 2010.
His marker for the evening, Gary Neville, admitted man marking was the only system he knew during his career at Manchester United and England.
Carragher had three goals from the weekend's Premier League action up his sleeve; Martin Skrtel's injury-time equaliser for Liverpool against Arsenal, Charlie Austin's third for QPR in the 3-2 win over West Brom, and John Terry's opener for Chelsea at Stoke on Monday Night Football.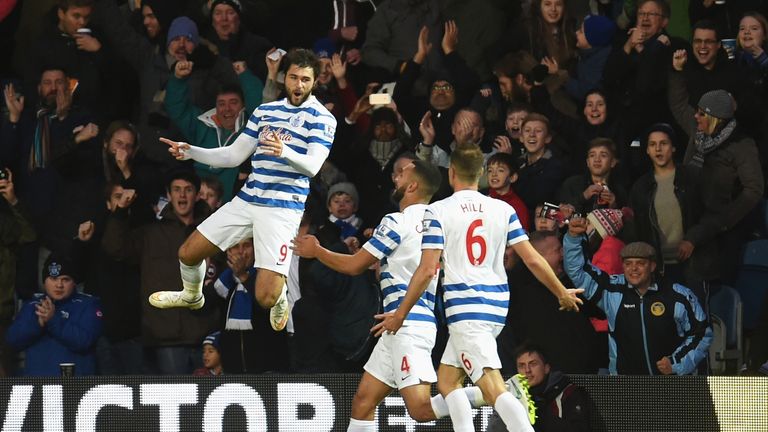 Both the Sky Sports pundits eventually agreed both systems have their pros and cons and both can work if they are done correctly.
"I'm sick of hearing people talking about zonal marking, I hear the same thing every time the ball goes in," said Carragher. "But when a same goal goes in against man marking we don't blame the system, we blame the player. I did zonal marking under Rafael Benitez, so I like to think I've got some understanding of it."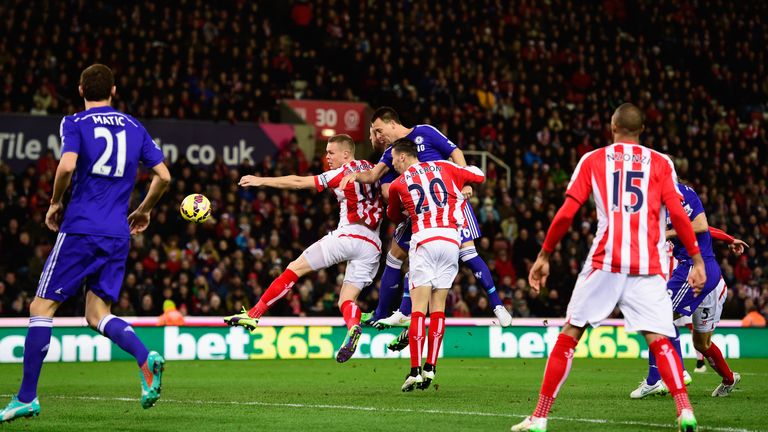 Martin Skrtel v Arsenal
With Arsenal 2-1 up at Anfield in the 97th minute, Calum Chambers was tasked with the back-post area. With Skrtel lurking, Carragher feels the young Gunners defender gave the Slovakian too much space to run at him and fire the header home for the equaliser, an example of a player defending space and ending up second best.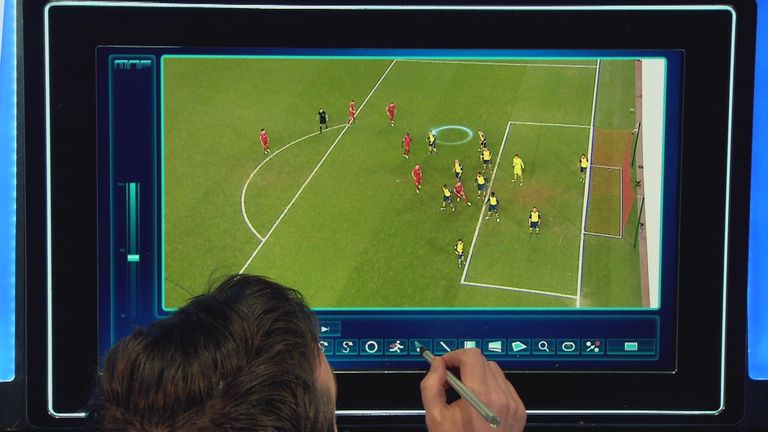 CARRA: "Arsenal do zonal marking, but there's someone at fault in that system, someone doesn't do their job properly. Chambers will have been given a zone, maybe at the back post, level with the six-yard box. But your feet aren't stuck in concrete, you have to adjust to where the opposition players are. You would not let a player have a run on you like that. If there's someone that far away at the back post, get closer to him. He has to get a better position. Another job everyone says is nobody on the posts - we looked at every team this weekend, 14 teams don't have anyone on the post."
Charlie Austin v West Brom
Carragher used Austin's hat-trick goal in QPR's vital 3-2 win over West Brom on Saturday as an example of man marking taking defenders' attention away from the main danger. Carragher believes the West Brom defenders, marking their men towards the back of the penalty area, were too occupied with their marking, leaving Austin a free run to head in for the winner.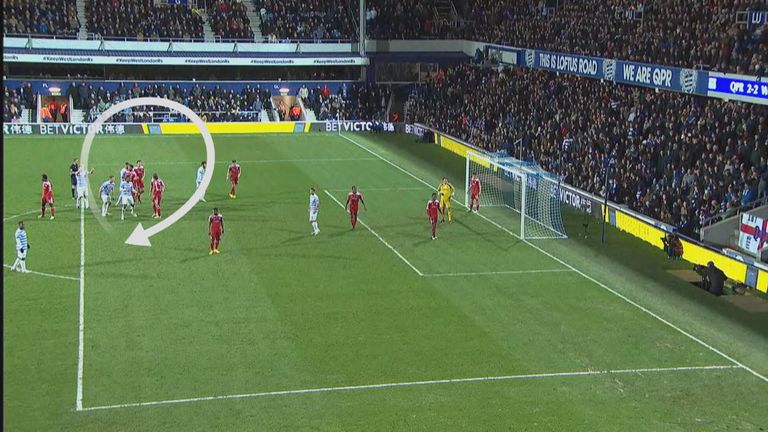 CARRA: "The man on the street, the supporter, he wants two on the post, one up front, two on the edge, everyone marked and someone on the front space. You need 14 players! No [West Brom] player is looking at the ball, that's the problem with man marking, you're not even looking at the ball because you're so obsessed with your man. There's for and against for both of them but this is the problem with man marking, people don't watch the ball. Why is it that people won't blame man marking as a system? Because it's easier to say, 'Oh it's his fault, so it's okay'. But you've still conceded a goal, no matter what the system."
John Terry v Stoke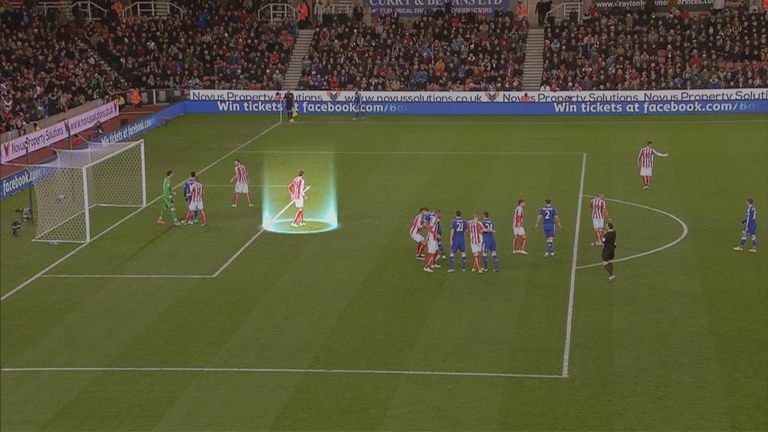 For Carragher, Terry's opener in Chelsea's 2-0 win at Stoke on Monday night represented why zonal marking is lost on certain players, particularly strikers brought back to defend set-pieces. Peter Crouch, marking the central zone around the penalty spot from Cesc Fabregas' corner, was drawn towards the ball, leaving space behind him for Terry to tussle with Geoff Cameron. He won the battle and Chelsea were ahead after two minutes.
CARRA: "Like [Romelu] Lukaku, Didier Drogba at Chelsea, maybe even Diego Costa now, there are big strikers who you want defending, but they can't mark people. They don't know how to mark people so you put them in a zone. Crouch here has left his zone for no reason. I preferred zonal marking as an individual, but I don't think some players are clever enough."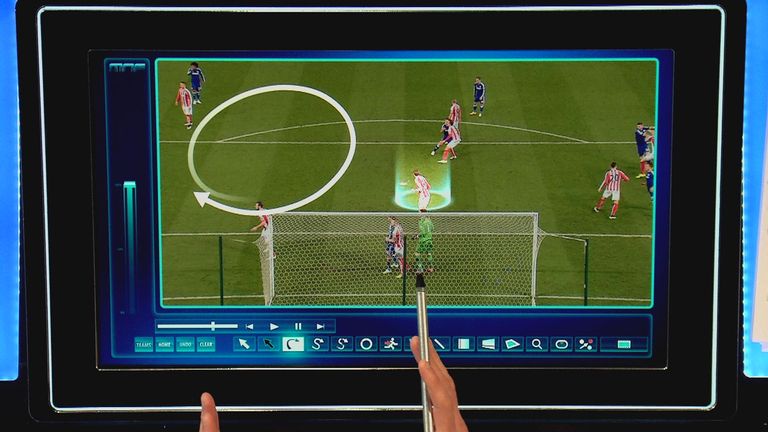 WHAT DOES NEV THINK?
"I'm not a fan of zonal marking because what you're asking for is instinctive thinking at different moments in the match depending on where people stand. You're asking players to think for themselves and make decisions. You talk about leaders, people who can command and organise the box. We know there's a lack of them.
"I always remember Martin Keown with England, we always used to play man marking with England. Keown came and said he wanted zonal marking, Sven [Goran Eriksson] said no. Keown, [Steve] Bould, [Tony] Adams, [Patrick] Vieira, [Emmanuel] Petit are organisers. They'll adapt, adjust, they'll move. But we're talking about Nacho Monreal, Mathieu Debuchy, Chambers who is young.
"I'm not saying zonal marking can't work, but we're talking about vagueness, grey areas. The reason we were told you go man marking is quite simple. There's your man, it's you versus him, go and win it. I think simplicity [is favoured] sometimes when you've got changing squads, foreign languages, new cultures, 24 players all changing, different zones, different people.
"Zonal marking needs coaching, hours on the training pitch. I never did it so maybe that's why I'm biased against it, but my view would be that accountability and simplicity is important."