Manchester City captain Vincent Kompany could be out for up to eight weeks with a calf injury, Belgium boss Marc Wilmots has said.
The central defender was substituted early during Manchester City's 0-0 draw with Dynamo Kiev in the Champions League on Tuesday, and has been left out of Wilmots' squad for the friendly against Portugal on March 29.
However, despite the Belgium coach revealing he expects Kompany to be "out for six to eight weeks," Manchester City boss Manuel Pellegrini is hopeful that he will have his skipper back before the end of the season.
"Talking with the doctor, I think that Vincent has an injury in his other leg - not the same calf as last time. We will see the way he improves, but maybe in one month he can be ready so part of the season he can play," said Pellegrini.
It is the third time this season that Kompany has suffered a calf problem, with the 29-year old featuring just 12 times in the Premier League in an injury-hit campaign.
But, Pellegrini insists that Kompany's should be able to return before the end of the campaign.
"It is a new injury in the other calf, a little bit higher behind the knee," added the Chilean. "It is similar to [Aleksandar] Kolarov injury a month ago. Kolarov took around three weeks to one month to come back.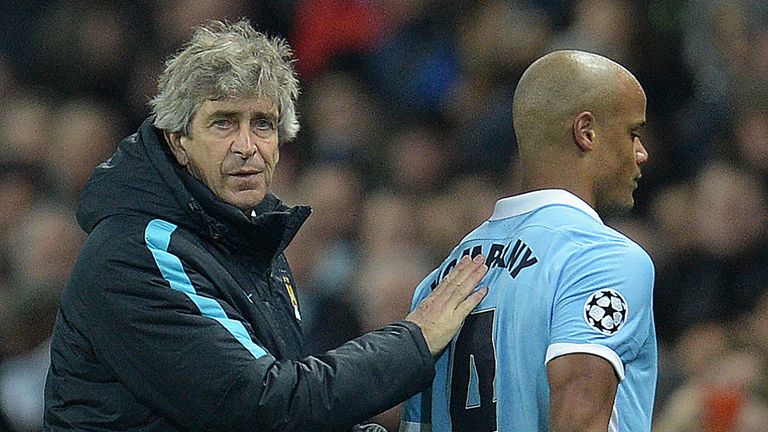 "It's very important the way he improves in the first two weeks that he starts working - it's difficult now to say, but the first thing we think is that he can return in a month."
Kompany will miss Sunday's Manchester derby, live on Sky Sports, and will almost certainly be ruled out of Premier League clashes with Bournemouth and West Brom in early April, as well as the Champions League quarter-final double-header against Paris Saint-Germain on April 6 and April 12.